This is a 2015 show that has now finished.
This show was cancelled.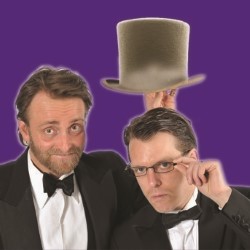 The songs and wit of those masters of mayhem, mirth and Madeira - timeless comedy legends, Flanders and Swann. Join multi award-winning comic Tim FitzHigham and Radio 4 musical maestro Duncan Walsh Atkins for all the favourites - The Hippopotamus (Mud, Mud, Glorious Mud), The Gnu, The Gas Man Cometh and many more. An Edinburgh phenomenon, now in its tenth tremendous year at the Pleasance, with a new song selection. Following international tour dates and appearances on Friday Night is Music Night, see it live. 'Muddy marvellous' (Evening Standard). 'Impressive ... a delight! (Times).
Share this show
Full press release
Michael Flanders and Donald Swann were the global musical comedy stars of the late 1950s and early 1960s. In eleven years, they gave around 2,000 live performances creating classics that are still known and loved. With huge delight Tim FitzHigham and Duncan Walsh Atkins keep those performances alive today.
A comedy show that can return to the Fringe and continue to delight audiences year after year is a rare and wondrous thing. This is a fantastic combination of the brilliance of Flanders and Swann, Tim and Duncan's genuine love of them and their ability to introduce new twists, turns and asides for faithful fans, while keeping the whole thing as fresh as a daisy for everyone.
But even then - how many shows can boast a 10th Fringe anniversary of such a performance?
Multi award-winning comedian Tim FitzHigham and BBC Radio 4 musical maestro Duncan Walsh Atkins return to the Fringe for an incredible 10th year with this firm favourite.
Tim, Duncan and the Hippo are back, for a tenth tremendous year at the Pleasance, with the much-loved words and music of Flanders and Swann, the musical comedy legends of the 1950s and 60s. Capturing all the favourite songs and traditions of the original duo, whilst sneaking in a few hidden F&S gems, the boys bring their own unique style, personality and humour to the show. Lifelong fans and the uninitiated alike will delight in seeing them breathe new life into the scintillating songsmiths' sparkling songs including: The Hippopotamus Song (Mud, Mud, Glorious Mud), The Gas Man Cometh, The Gnu Song, Omnibus (or A Transport of Delights), and Madeira M'Dear.
Tim FitzHigham and Duncan Walsh Atkins created their Flanders and Swann performance in 2001 for a charity concert. By 2004 the show had sold out five summer music festivals, completed its first extensive tour of the UK and they released their album At the Drop of a Hippopotamus. With starched beard and trimmed dinner jackets, they have continued to tour both nationally and internationally and even headlined the International Flanders and Swann Festival, playing on Donald Swann's piano and drinking from Michael Flanders' famous Madeira decanter. This is the Rolls-Royce of Flanders and Swann shows and continues to be the best Flanders and Swann show since ... well, since the sublime Flanders and Swann themselves.
Tim FitzHigham is a Perrier nominated, multi award-winning comedian who has performed on BBC Radio 1, 2, 4 and 5, toured lots and appeared frequently on TV and in films in the UK and Europe. He starred in his own CBBC show Superhuman Challenge, and was recently the star of two seasons of BBC Radio 4's The Gambler.
Duncan Walsh Atkins is a stalwart of BBC Radio 4, runs a busy London music studio and has also toured lots. As well as providing the music for BBC TV's Fast And Loose he opened his first musical, The Tailor Made Man, at London's Arts Theatre and is the musical director for the musical improvisers, The Showstoppers.
Credits