Fitchburg State University
Fausted
Theatre
12:55pm (80 mins)
9-15 Aug 2015
5.50 - 10.50
This is a 2015 show that has now finished.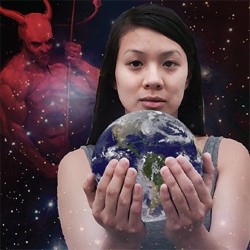 Show details
Theatre performed on the following days in August 2015...
Mon
Tue
Wed
Thu
Fri
Sat
Sun
03
4
5
6
7
8
9
10
11
12
13
14
15
16
17
18
19
20
21
22
23
24
25
26
27
28
29
30
31
1
2
Venue details
After being endlessly thwarted in her efforts to end global warming, the environmentalist Dr Chris resorts to summoning the devil, and makes the Faustian deal to trade her soul to help save mankind. Follow her, Mephisto and a cast of 21 actors questing to save us from ourselves. Meeting international leaders, pleading at the United Nations, and manipulating corporate leaders builds to a final confrontation with the ultimate devil, greed. Coaxed by the music of Berlioz and Gounod, Fausted is provocative, moving and hilarious.
Share this show
Reviews
Full press release
Fausted by Samantha de Manbey
An environmentalist makes a Faustian deal to trade her soul and save mankind
A cast of twenty one actors bring Dr Sarah Chris's Faustian journey to life. A passionate environmental activist endlessly thwarted by the establishment in her efforts to end global warming, Dr Chris is driven to the brink and resorts to summoning the devil and enlisting hell's help to save mankind. The price? Her soul.
Follow Dr Chris and Mephistopheles led by the Seven Deadly Sins questing to save us from ourselves. They meet international leaders, plead with the United Nations and manipulating corporate leaders dripping in self-interest.
This epic journey leads to a confrontation with their ultimate Devil, greed.
The Fitchburg State University Theatre Programme is an award-winning Professional Theatre Training Program in Fitchburg Massachusetts, USA. Focusing on both stage and film acting they work closely with the FSU Film/Video program, one of the largest such programs in New England. Graduates have gone on to professional placement in American theatre, film and to some of the most prestigious graduate programs in the United States, including University of Southern California, Circle in the Square and Catholic University.
This is FSU's sixth year at the Edinburgh Festival Fringe following their 2012 smash hit Romeo and Juliet.