The Pin answers 10 Edinburgh Fringe Questions
The Pin - aka Ben Ashenden and Alex Owen - are back for their third Fringe this year, sketch show Ten Seconds with The Pin. Find out what the boys have to say for themselves...
1. Tell us about your career so far. Are you happy with where you're at?
We first started writing and performing together in 2009. We did a few shows at university with other people and then became a duo in 2013. This is our third Edinburgh as a double act and we're having a lovely time to be fair. We got to make our own Radio 4 series a couple of months ago, which for a couple of comedy nerds was great fun.
2. Describe your show in exactly 23 words.
A barrage of total nonsense broadly themed around the idea that we don't really understand sketches and are trying to work them out.
3. Why are you putting yourself through this famously stressful experience?
The flip side of the stress coin is that it's also not bad in the fun stakes. And it's satisfying to feel like you're hopefully getting better year on year.
4. Any cunning plans to get more punters in?
We're trying to distinguish ourselves from the crowd this year by printing little flyers advertising the show - we're going to hand a few of these out maybe and see where that takes us.
5. How much money do you think you'll lose/make this year?
Well printing these little cards has come at a cost to be honest. Also it's nigh-on impossible to do a sketch show without buying half the contents of a fancy dress shop. So put it this way - we're currently in the red.
6. What's your weirdest past Fringe experience?
One year we were in the adjacent venue to a bleak drama about rape in war zones. The sounds of the grim and shocking climax of that show were clearly audible through the thin partition wall, and not the ideal accompaniment to a sketch about a silly teacher.
7. What other shows are you hoping to see?
James Acaster, Liam Williams, Goose, Sheeps, Gein's Family Giftshop, Beasts, and we've not seen it advertised anywhere but if Cook & Moore do a reunion we'll try and book for that. Interesting to see how they've brought them back to life if nothing else.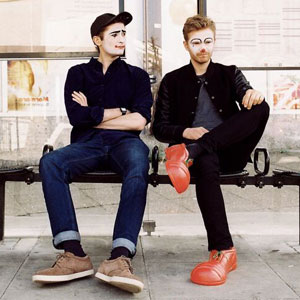 8. If you took over programming a venue, what would you perfect line-up of comedians be?
An hour of John Cleese playing an infuriated customer opposite Tim Key as a timid but onerous jobsworth would suit us down to the ground.
9. Name the one person you'd rather not bump into during the festival.
A Genie of any description. Edinburgh's tough enough without having to make critical life-changing decisions.
10. Why should audiences pick your show over the 1,700+ other comedy offerings at this year's festival?
How many other shows include a free chicken korma? Now admittedly ours doesn't either, but if it's a deal breaker get in touch and we'll see what we can do.
'The Pin: Ten Seconds with The Pin' is at 7pm at Pleasance Dome on 5-16, 18-23, 25-31 August. Listing