Something A Little Different
When you go up to the Edinburgh Fringe, you generally have an idea of who and what you want to see. You've got your favourite stand-ups, a sketch group that a friend has recommended and perhaps a cabaret act you've seen on TV on the list, but the best part of the ever-growing and ever-versatile Fringe is seeing something a little different.
Whether you stumble upon it in the back room of a pub or get dragged in by a persistent flyerer, you'll always see something completely new at the Fringe. Now the festival is nearing its end, I've chosen my top three acts that are just that: something a little different...
Titty Bar Ha Ha
Hope and Gloria (aka Nai Bowen and Boo Dwyer) form the comedy musical duo that is Titty Bar Ha Ha. With choreography and direction from Lili La Scala, original music from Kirsty Newton (winner of the Amused Moose People's Choice Award last week with Jess Robinson, and a Rich Hall's Hoedown and Distraction Club regular) this cabaret act is eccentric, outrageous and downright silly.
Now in their third and final year of their trilogy of shows presenting "high end filth and games", Hope and Gloria rattle through their songs with seemingly random connections, abandoning the often rigid structure of traditional cabaret and burlesque, almost mocking the latter with their overt sexual material.
The highlight of the show actually isn't their fast paced banter or even their carefully crafted songs, but is in fact their dueling kazoo number.
Madame Senorita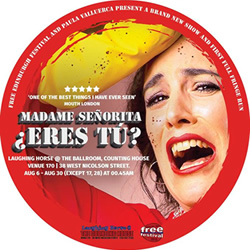 I defy anyone to find a more 'different' act on the circuit than Madame Señorita. This character act, performed by Paula Valluerca, is almost impossible to describe. The show consists of music, situation games, physical comedy and a very long time of pretending to be a ghost...
Winner of the Best Female Solo Award at the London International Solo Festival, Valluerca really gives a performance that, whether you love it or hate it, truly is completely unique. When describing her show in 23 words for BCG, Madame Señorita herself said, "It's surreal, funny, filled up with unexpected moments and created to seduce the audience! Coming with your mind wide open will help you..."
Richard Gadd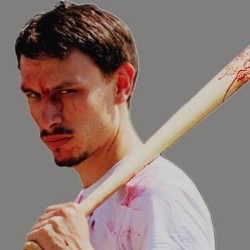 Receiving a lot of deserved attention this year (including winning the Amused Moose Comedy Award 2015), is the extreme and outrageous comedian Richard Gadd.
Alongside his technician Ben Target and other cast members Ed Aczel and Ian Smith, Gadd combines so many different types of technology with so many different things going on at once it's almost impossible to keep up, but in the most incredible way imaginable.
Like hundreds of mini jokes threaded together to create an hour long acid trip of comedy, there is no act around like Richard Gadd. Having now been on the circuit since 2010, the combination of videos, texting, skyping and 'audience' interruptions gives you an experience that feels like it could never be replicated.
As Gadd told BCG, Waiting for Gaddot is "the antithesis of what you would see on Live At The Apollo", and we couldn't agree more Richard.