Routines cast answers 10 Edinburgh Fringe Questions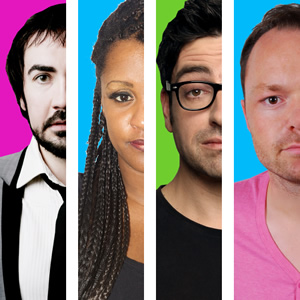 The performers involved in Routines, a unique new comedy format making its debut at the Edinburgh Festival, answer our 10 questions. Here's Stephen Carlin, Dana Alexander, Will Mars and Matt Roper...
1. Tell us about your career so far. Are you happy with where you're at?
We've all been at this for a while, some of us longer than others. Between us we've been on-stage and backstage for over 40 years now.
2. Describe your show in exactly 23 words.
It's a stand-up show that includes its own, built in, DVD extras. Allowing the audience to see us onstage, backstage and everywhere in-between.
3. Why are you putting yourself through this famously stressful experience?
The festival is certainly stressful, but it's addictive too, so what other choice do we have? Doing a show like Routines is taking that stress up a notch too. We have nowhere to hide in this one because we're onstage even when we're not. In comparison it's sure to make each of our solo shows seem like a walk in the park.
4. Any cunning plans to get more punters in?
Do other people have cunning plans? Damn! Looks like we need to call another meeting guys. If you have any ideas then let us know on twitter guys (use #Routines).
5. How much money do you think you'll lose/make this year?
We're aiming for breakeven. We will break even if you take out the cost of living, the loss of usual gigging income and the extra alcohol needed to survive. But apart from that we might breakeven.
6. What are you most looking forward to about your first Edinburgh Festival?
We've all done the fringe before but this is the first time we've attempted this type of show. We're looking forward to finding out how an audience reacts to knowing what we really think of them. Our backstage area will be a part of the show and so our conversations could cause a riot. Who knows what might get said if we have other comedians or reviewers in?
7. What other shows are you hoping to see?
We're going to be watching each other's shows for sure. Check out, Stephen Carlin: The Gospel According to Stephen, Dana Alexander: Don't Fuck with me Gweilo and Will Mars: Outspoken White Guy. Matt isn't doing a solo show this year so you'll just have to check him out again in Routines (it's a different show every day after all).
8. If you took over programming a venue, what would you perfect line-up of comedians be?
We would fill it with all the dead comedians. Richard Pryor, Sam Kinison, Bill Hicks and the like. We reckon that would shift some tickets!
9. Name the one person you'd rather not bump into during the festival.
We really want to bump into everyone this year, whether we like them or not. Hopefully the people we don't like will be in our audience so we can finally talk about them while they're in the room.
10. Why should audiences pick your show over the 1,700+ other comedy offerings at this year's festival?
No other show is going to be like ours. In Edinburgh this year you can see great stand-up, you can see great chat shows, you can see great theatre and you can see great improv. Or you can roll it all into one, add in a little jeopardy and see Routines.
'Routines' is at 3:45pm at The Free Sisters on 6-17, 19-30 August. Listing