Robin Morgan answers 10 Edinburgh Fringe Questions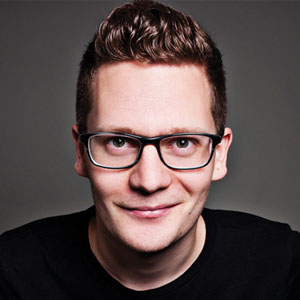 It's Robin Morgan's first full Fringe this year: his free show is just half an hour long, but you'll get to find out why he wouldn't like to meet the Eggheads stars.
1. Tell us about your career so far. Are you happy with where you're at?
Despite starting in late 2010, this is embarrassingly my first full Fringe. I'm very excited about it. I've been doing bigger club gigs and a few festivals over the last couple of years, and since I moved to London last year it's progressed quicker than I'd hoped for, so yeah, pretty happy! I'm a one-step-at-a-time kind of person.
2. Describe your show in exactly 23 words.
It's about trying to grow up and make smart, adult decisions - despite having a childish sense of humour and being an idiot.
3. Why are you putting yourself through this famously stressful experience?
It's my first full run, so I haven't experienced the stress first-hand yet. But asking me the question is now making me worry, so thanks for that.
4. Any cunning plans to get more punters in?
I'm going to do this thing called 'flyering', which I think is quite groundbreaking, and should provide me with that extra few punters. I hope no-one else has thought of it.
5. How much money do you think you'll lose/make this year?
Doing a Free show, I hope I'll break even, or at least not lose a huge amount. It's my birthday on the 19th, so if anyone wants to put some coins in an envelope, that'd be super.
6. What are you most looking forward to about your first Edinburgh Festival?
I'm looking forward to doing the show every day. I'm sure I won't be saying that at the end, and sick of the sound of my own voice, but at the moment I'm excited. And to see a huge amount of different acts while I'm up there. And I've never had alcohol poisoning before, so that'll be fun.
7. What other shows are you hoping to see?
The Wrestling, Goose, Gein's Family Giftshop's Trophy Collection, Jessica Fostekew: Silence Of The Nans, Gavin Webster: Gavin Webster World Tour, Phil Wang, Jenny Collier and countless others.
8. If you took over programming a venue, what would you perfect line-up of comedians be?
Terry Alderton, Zoe Lyons, Daniel Kitson, John Oliver.
9. Name the one person you'd rather not bump into during the festival.
Any of the 'Eggheads' who are on the show Eggheads. Come and see my show and you'll find out why.
10. Why should audiences pick your show over the 1,700+ other comedy offerings at this year's festival?
Because it's my first festival, and they should all be really kind and make me feel welcome. Plus, it's only half an hour. And it's free. And it's funny.
'Robin Morgan: Guten Morgan' is at 3:45pm at The Counting House on 6-18, 20-30 August. Listing