Nathan Cassidy answers 10 Edinburgh Fringe Questions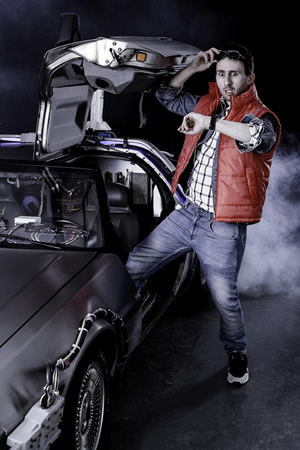 Nathan Cassidy is performing three Back to the Future themed shows at this year's festival. Let's find out more from him now...
1. Tell us about your career so far. Are you happy with where you're at?
I've been a stand-up comedian for 76 years. I won Best Show on Buxton Fringe last year so I'm not sure I could be doing any better.
2. Describe your show in exactly 23 words.
It's three shows about travelling back and forwards in time in this and the next life. That's only sixteen words, is that ok?
3. Why are you putting yourself through this famously stressful experience?
I love it. I'd get stressed if I wasn't doing it. I've never been stressed doing comedy, because as luck would have it I'm absolutely dead inside.
4. Any cunning plans to get more punters in?
I don't do gimmicks. I'm famous for it. I just wanna turn up at the gigs quietly, in my Delorean or on my hoverboard, avoid any mention of my Malcolm Hardee cunning stunt award nomination and deliver my set to preferably no one.
5. How much money do you think you'll lose/make this year?
I'm doing free bucket collection shows at the Free Sisters and a paid show at Gilded Balloon, so I'm hoping that through ticket sales and the cash I eventually get back from suing my PR I'll be able to make up for spit and buttons in the bucket.
6. What's your weirdest past Fringe experience?
I won the Edinburgh Comedy Award in 2015.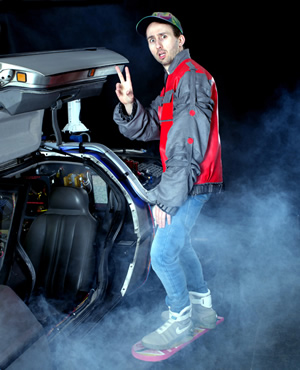 7. What other shows are you hoping to see?
I hear The Rat Pack stand-up comedy is good. Returning for a limited run after two sell-out years. www.theratpack.co.uk for details of this year's amazing line-ups.
8. If you took over programming a venue, what would you perfect line-up of comedians be?
I'd only do a limited run, keep it exclusive. On the first day I'd have the brilliant Patrick Monahan, Matthew Crosby, Jayde Adams, Laurence Owen and myself hosting. On day two I'd go for the hilarious Damian Clark, Milo McCabe... look as I say just go to www.theratpack.co.uk for the full line-ups.
9. Name the one person you'd rather not bump into during the festival.
The flyerer who last year tried to flyer me for a show that clashed with mine, I said 'sorry, I have a show at that time' and she shouted after me 'Well you're a miserable prick aren't you?!' How did she know?
10. Why should audiences pick your show over the 1,700+ other comedy offerings at this year's festival?
They shouldn't. Go see others first, be bitterly disappointed and that will make mine seem even better.
Nathan Cassidy's Back To The Future trilogy is on at different times in different venues. For details see our listings