Matthew Giffen answers 10 Edinburgh Fringe Questions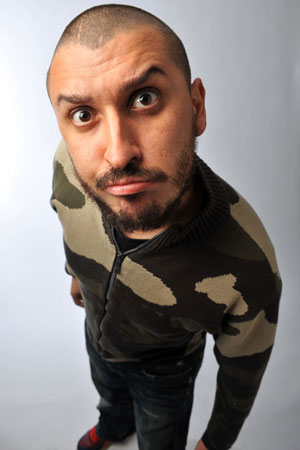 Matthew Giffen answers our 10 Fringe questions.
1. Tell us about your career so far. Are you happy with where you're at?
I dipped my foot into comedy in 2010 and then took a bigger plunge in 2011. I was a finalist in the 2012 Amused Moose new act competition and runner up in the Laughing Horse one in the same year. Since then I've taken my comedy on the road and have been touring and performing all over Asia and Australasia and it's been a blast. I'm back now to see if there's any other competitions I can't win.
2. Describe your show in exactly 23 words.
Full throttle, high octain, laugh every 22.3 seconds comedy. Cocaine and Potatoes is daring and experimental with lots of incredibly clever jokes!
3. Why are you putting yourself through this famously stressful experience?
BECAUSE I LOVE IT!!! It's really not that stressful at this stage because I've got nothing to lose! Oh except for my wife, my child, my house, my car...meh.
4. Any cunning plans to get more punters in?
Yes... I intend to be incredibly funny so that they will tell people...
"OH THAT Matthew Giffen??? YEAH HE'S INCREDIBLY FUNNY YOU SHOULD DEFINITELY GO AND WATCH HIM AT 20:15 IN THE LOFT AT THE COUNTING HOUSE FROM THE 22ND TO THE 30TH OF AUGUST"
5. How much money do you think you'll lose/make this year?
If my show can pay for itself that would be great but if not who cares. I have to make sure I'm covered for a bag of spuds and a bag of coke every night. Easy.
6. What's your weirdest past Fringe experience?
That your life turns into a weird cycle of comedy, beer and haggis.. not in that order.
7. What other shows are you hoping to see?
Hmmmm I'd love to see lots of old chums I haven't seen in a long time and discover lots of new things. I haven't looked at the programme properly so I don't know.
8. If you took over programming a venue, what would you perfect line-up of comedians be?
Daniel Kitson, Richard Pryor, Eddie Izzard, Bill Burr, Dave Chappelle. And me... oh God really?? I'd be sick if I was on with them.
9. Name the one person you'd rather not bump into during the festival.
Piss off and stop trying to get my head kicked in. I do a pretty good job of that myself.
10. Why should audiences pick your show over the 1,700+ other comedy offerings at this year's festival?
Because you genuinely won't have seen anyone like me.
'Cocaine and Potatoes' is at 8:15pm at The Counting House on 22-30 August. Listing