Mat Ewins answers 10 Edinburgh Fringe Questions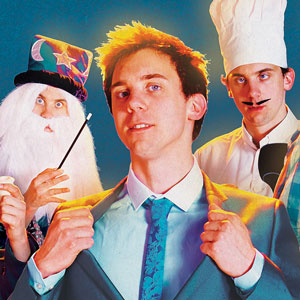 Mat Ewins talks about microphone cables and the possibility of losing £1,900.
1. Tell us about your career so far. Are you happy with where you're at?
I've been doing stand-up comedy since late 2003, in that time I've performed from everywhere from comedy clubs to sheds to theatres (both stage and operating). I've performed at school discos; in a Challenger 2 tank; in six separate stables and I had my biggest gig last year where I performed in a rocket to scientists who were aiming to sling shot around the sun, go back in time, and prevent the assassination of Franz Ferdinand. Sadly the mission failed, but fuck me what a gig.
2. Describe your show in exactly 23 words.
One two three four funny, six seven eight nine punny, eleven twelve thirteen fourteen chummy, sixteen seventeen eighteen nineteen my dad has died.
3. Why are you putting yourself through this famously stressful experience?
I've always enjoyed being up at the Fringe and I've never found it to be stressful, and I put this down to three simple rules: 1) Don't pay attention to reviews, yours or anyone else's. 2) Don't feel like your career isn't progressing, everyone moves at their own pace. 3) MDMA.
4. Any cunning plans to get more punters in?
I am planning to take away three chairs out of the venue every performance so that by the end of the run I am able to sell out the show without anyone buying a ticket.
5. How much money do you think you'll lose/make this year?
If I sell 1,000 tickets for £1 each or 1 ticket for £1,000 or 333 for £3 or 20 tickets for £40 or 5,000 tickets for 20p then I will lose £1,9000 as I've invested about twenty grand of my inheritance into this show. Mostly on massive posters of walls which you'll be able to see dotted around Edinburgh during the festival.
6. What's your weirdest past Fringe experience?
In 2006 during my Edinburgh Fringe debut for the first twenty nine performances of the run everything I said to the audience sounded really quiet and far away and everything they said was incredibly loud. It took me and the venue staff a long time to fix the problem but it turned out we had the microphone cables the wrong way round.
7. What other shows are you hoping to see?
I'm looking forward to seeing Papton Shackle's new hour where he obsesses incessantly over the minute details of certain property titles in his show Anal Deeds.
8. If you took over programming a venue, what would you perfect line-up of comedians be?
Papton Shackles, Dr Baskets, Cemetery Clementine and Sally Bouncy.
9. Name the one person you'd rather not bump into during the festival.
Sally Bouncy. She's literally too bouncy.
10. Why should audiences pick your show over the 1,700+ other comedy offerings at this year's festival?
I don't think any show has the same level of dangerous stunts as my show. This year the climax of my show involves me cutting an arm off each night, early bookings are recommended.
'Mat Ewins: Day Job' is at 9:55pm at Just The Tonic at the Caves on 6-17, 19-29 August. Listing