Folie à Deux answers 10 Edinburgh Fringe Questions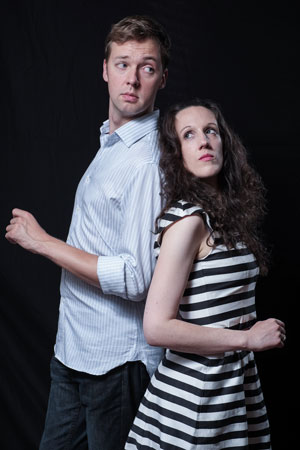 Folie à Deux - aka Andrew Hunter Murray and Charlotte Gittins - return for a second year of top improvisation.
1. Tell us about your career so far. Are you happy with where you're at?
Folie à Deux had its first Fringe outing at the Pleasance last year, but we've been performing together for years in Austentatious and various other incarnations. Andrew works at QI and co-hosts No Such Thing As A Fish; Charlotte is one of the doyennes of London's improv scene, specialising in Punning and Hilarious Tension. And we are absolutely delighted with where we're at, which is, for the purposes of this Fringe, a shipping container.
2. Describe your show in exactly 23 words.
Charlotte and Andrew make up ridiculous scenes, lunatic characters and hilarious monologues based on a single word before your astonished eyes. You'll laugh.
3. Why are you putting yourself through this famously stressful experience?
For the glory, the lucrative Hollywood optioning rights, and, crucially, the larks.
4. Any cunning plans to get more punters in?
Charlotte will be building an enormous wicker man out of flyers; Andrew will be painting Arthur's Seat with a mural of our faces.
5. How much money do you think you'll lose/make this year?
Oh, stacks. It'll be like Walter White's house at our flat.
6. What's your weirdest past Fringe experience?
Seeing a man in a top hat and tails cycling a piano along outside the Gilded Balloon. He'd rigged it up so that when he pedalled it moved along sideways. It was wonderful.
7. What other shows are you hoping to see?
The delightful sketch stylings of In Cahoots, the insane energy of Aunty Donna, and Bruce, by a fantastic theatre company from down under.
8. If you took over programming a venue, what would you perfect line-up of comedians be?
Rik Mayall on lead vocals. Tommy Cooper on xylophone. Animal from The Muppets on drums. David Mitchell on spoken-word solo. The entire cast of Green Wing (backing choir). And Buster Keaton on triangle.
9. Name the one person you'd rather not bump into during the festival.
Adolf Hitler. He never laughs, never takes flyers, and he'd probably sit on the front row texting. An all-round nightmare punter.
10. Why should audiences pick your show over the 1,700+ other comedy offerings at this year's festival?
What a question! You'd have to have an ego the size of a planet to insist you were more worth seeing than EVERY other comedy show at the Fringe. Fortunately, we do, and we are, quite simply, better.
'Folie à Deux' is at 11pm at Pleasance Courtyard on 19-23 August. Listing