Chris Turner answers 10 Edinburgh Fringe Questions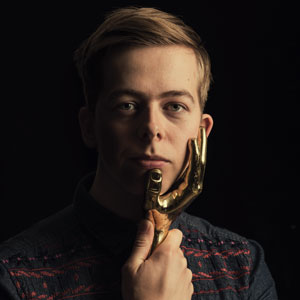 Chris Turner says...
Like most things during Edinburgh, I'm answering these four drinks to the good...
...And now revising them the morning after for spelling, clarity, and the redaction of identifying details about an Oxford-based taxi company.
1. Tell us about your career so far. Are you happy with where you're at?
I started performing with The Oxford Imps in 2008, and after a year of sharing applause with friends, gave it a go, solo, in mid-2009, so I've just made my sixth year. It's all rather wonderful - I make a living telling jokes and rhyming raps and that's something I never could have dreamed of when I was studying to become an Archaeologist who would then convert to Law. After I graduated I thought I'd give comedy a go, so gigged in the evening whilst working for an unstable fellow who ran a taxi firm off the Cowley Road in Oxford. One day he fired the office manager for 'phoning his wife', and offered me the now vacant position. I left, and luckily haven't had to work like that since. I've taken shows to Australia with my best friends for the past two years, and they were the most wonderful months of my life. We're doing the same again in 2016, and then I should be moving to America with the girl I love, so yes, I'm beyond happy.
2. Describe your show in exactly 23 words.
A beat poem and two freestyles strategically placed within the story of how a doctor told me I had ten years to live.
3. Why are you putting yourself through this famously stressful experience?
I first came to Edinburgh when I was 16 because I'd heard you could get served alcohol easily even if you looked like a 'wee bairn'. That was my main incentive then and still ranks high on my list. Originally it was not wanting to break the annual chain of attendance (this will be my ninth consecutive year); for the last 5 years it's been youthful exuberance slowly morphing into post-adolescent enjoyment. But seriously, it's the highlight of my year and I treat it like a holiday.
4. Any cunning plans to get more punters in?
I was happy with how many people saw me last year, so it's more a case of getting the right audience in, attracting people who are interested in me and what I'm trying to do. Rather than spend my PR budget on an actual PR person, I spent it on my poster, with the added benefit that I've now got a rather rad watercolour portrait of me hanging on my office wall. We tried our best to make it appealing to the target demographic. Dave Kloc is an artistic genius, as evidenced by his work for Kumail Nanjiani in 2012.
5. How much money do you think you'll lose/make this year?
Last year's joint victory in the Amused Moose Awards and a flat in the Meadows meant I broke even. This year I'm staying on Bristo Square and I doubt I'll win money, so the loss will hit doubly hard.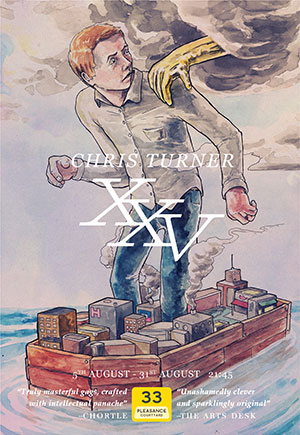 6. What's your weirdest past Fringe experience?
In 2007 I was wandering the Royal Mile when a man thrust a photocopied piece of paper into my hand. It was a flyer for The Pound For You Show, and promised the most offensive comedy possible, but if you could stay until the end, you'd receive a pound. I went, and witnessed some truly disgraceful things, not least an audience member challenging a performer over the veracity of his statement that a pint of yellow liquid he was finger-flicking over the audience was his own piss. Said audience member was offered a taste test, and was proved incorrect in his assertion, promptly vomiting onto the stage. Those of us (about a quarter of the audience) who lasted the course were offered the hosts' hairy arseholes, as pound coins were thumbed up there, as they sang: "It's the pound for you show/and there's a pound up my arse for you".
That year I also saw a show called Raz-Mataz, and was co-opted into the cast for a "grotesque mess of thespian excess". God, it was a load of shit to sit through, but the most self-indulgent fun as a performer.
7. What other shows are you hoping to see?
I never get to see many shows, partly due to a combination of day-spanning own-show scheduling and inevitable show/party/sleep exhaustion. I always try to try harder, but it always fails. If our shows don't clash, and I manage to make it, I'd like to see Joseph Morpurgo: Hammerhead, Cariad and Paul, Kyle Kinane, Trygve Wakenshaw and James Acaster. I'm not really the best person to ask about this.
8. If you took over programming a venue, what would you perfect line-up of comedians be?
I'd want Mike Birbiglia to tell me stories from Noon to 6pm, with the intervals soundtracked by Reggie Watts. Then I'd delegate Hans Teeuwen and Daniel Kitson to programme the rest of the night. Their 2009 shows are still my Edinburgh comedy highlights.
9. Name the one person you'd rather not bump into during the festival.
The guy who ran that taxi office. Why is he there? What's he doing? How does he even remember who I am, considering he was rarely at work and called me 'Posh boy' rather than my name?
I love the whole 'bumping-into' aspect of the festival. I have a walking map of Edinburgh in my head with estimated times to get places, accounting for the probability of a stop-and-chat from the brief to the in-depth. It's a sociable place, and chin-wagging gives you a rest from hopping over cobbles.
10. Why should audiences pick your show over the 1,700+ other comedy offerings at this year's festival?
If you were to only see 25 different shows at the Fringe, I wouldn't dream of suggesting mine as part of that 25. It's that kind of honest pragmatism that I hope will encourage audiences to spend an hour in my company. I'm also a pretty good freestyler, and if you come with an excellent suggestion (last year's joint winners: 9th Century Crop Rotation; Afghani Irrigation Ditches) you get to see me flail and spit while I search the crannies of my mind to make sense of it all for you, whilst rhyming.
'Chris Turner: XXV' is at 9:45pm at Pleasance Courtyard on 5-31 August. Listing