Andrew Watts answers 10 Edinburgh Fringe Questions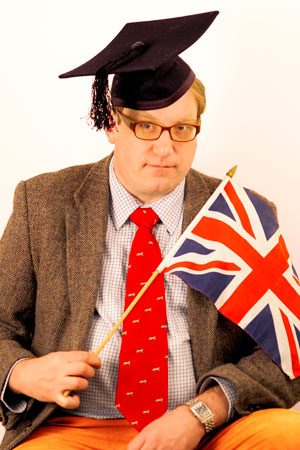 Andrew Watts talks about his new show - all about parenthood - and the one time he organised a comedy gig.
1. Tell us about your career so far. Are you happy with where you're at?
It started with a bet. I'd come up to Edinburgh ten years ago, with my then girlfriend, and we ended up going to see a lot of comedy. Some of it was brilliant; a lot of it was terrible. And on the train on the way home, I told her that I could do better than some of the dross we'd seen - and she said, "Prove it." And I've been trying to prove it ever since...
I was able to give up the day-job after about four years - I was a solicitor in a City firm. And whenever I think that the comedy career isn't going as well as I'd like, I just have to think: Well, at least I'm not a fucking lawyer any more. And I'm more than happy with that.
2. Describe your show in exactly 23 words.
It's a show about what it's like to be a father. And, in a funny way, what it's like to be a son.
3. Why are you putting yourself through this famously stressful experience?
I just love the festival. It's not just the place where I fell in love with stand-up, it's also the place where, every year, I become a better comic. It's like training at altitude - if you can do an hour here, in front of the most comedy-savvy crowd in the world, you're ready for anything the circuit can throw at you. Besides which, if it wasn't for the discipline of writing a new show every year, I'd never get round to writing any new material.
4. Any cunning plans to get more punters in?
Every year I put my toddler in a T-shirt with details of my show on. (He's got to start earning his keep sooner or later.) I stole the idea from Karen Bayley, who put her King Charles spaniel in a T-shirt advertising her show last Fringe. We had a flyer-off on the Royal Mile to see whether a cute puppy or a cute baby got more punters in - her dog won, but she's not coming to the Fringe this year so I hope to clean up.
5. How much money do you think you'll lose/make this year?
I'm doing the Free Fringe so I'll probably make some money this year. The economics of that don't make sense to me either.
6. What's your weirdest past Fringe experience?
I was holding the bucket at a Free Fringe show - I'd just done a set whingeing about being single, like all male open spots - and one girl put in a piece of paper with her phone number on. Jeff Leach tells me that this isn't weird at all - well, it took me by surprise. I suppose I should have called her, really.
7. What other shows are you hoping to see?
There are so many shows I'd like to see, but, realistically, the only chance I'm going to get to go to a show is if I can take my family with me. But that's no hardship: children's shows are now one of the most exciting parts of the Fringe programme. Funz and Gamez was my favourite show of last year's festival, so I'm looking forward to its follow-up (Funz and Gamez Tooz). I'm also hoping to see some of my favourite performers doing kids' stuff, whether it's the cabaret singer Ali McGregor doing her Jazzamatazz! show, or comics I love from the circuit like Cerys Nelmes (All In One Fun) or Martin Mor (Funny Stuff for Happy People).
8. If you took over programming a venue, what would you perfect line-up of comedians be?
The only time I ever promoted a gig was when I organised a benefit for Salisbury Hospice, who looked after my dad when he was ill. I thought it would be a nice idea to try to get his favourites of all the comics I'd introduced him to - after I started doing comedy, he came up to Edinburgh a couple of times - and, much to my surprise, they all agreed. So we had Milton Jones, Pappy's Fun Club, Paul Kerensa, Suzy Bennett, and Stuart Black. And I don't think I could ever top that bill - which is why I haven't bothered promoting a gig since.
9. Name the one person you'd rather not bump into during the festival.
Robin Ince. He thinks I slagged him off in a show six years ago. And we're both so polite and English we'd have to have an awkward conversation about it to clear the air... which we'd both find excruciating.
10. Why should audiences pick your show over the 1,700+ other comedy offerings at this year's festival?
It's a show for anyone who is a parent, anyone who plans to be a parent, and anyone who's had a parent. And that covers pretty much everyone reading this, doesn't it? Also it's got lots of proper jokes.
'Andrew Watts - How to Build a Chap' is at 8:45pm at The Counting House on 6-16, 18-30 August. Listing