Amy Howerska answers 10 Edinburgh Fringe Questions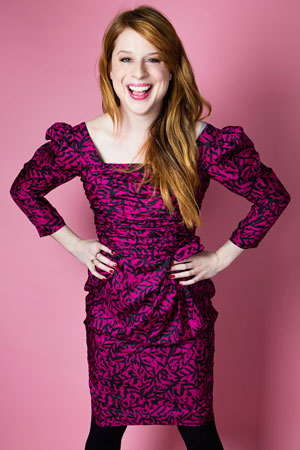 Amy Howerska talks about her debut solo Fringe show, and kicking out a disabled group.
1. Tell us about your career so far. Are you happy with where you're at?
I started comedy in 2009, and then after doing well in some new act competitions, promptly left the country for an internship in New York...never really understood the idea of momentum. I gigged over in NY too. I came back in 2010 and since then have just been plugging away on the ole circuit; leaving my cardigans and phone chargers in various venues up and down the country. I've also been doing a bit of writing for radio and for some other comics, which I really enjoy - all the fun minus the pressure! I've been up to Edinburgh in a double act and last year as a host of Spank. Now it's time to bite the bullet and do my solo hour. I think comedy is going ok. I seem to be finally making a bit of progress. I am not sure if anyone is ever really happy with where they are in comedy. I feel like we are all always striving, trying to improve. I think comedy careers are a bit like puberty, some get growth spurts and shoot up...some pad bras for a bit, but everyone gets there in the end.
2. Describe your show in exactly 23 words.
An hour of loltastic comedy about growing up in a family of skydiving nutters and trained killers. Contains stories of death and Swansea.
3. Why are you putting yourself through this famously stressful experience?
Well if you're not having a baby or buying a house how else are you going to squander a couple of K? Invest in your career? I have been doing comedy for a few years now and if I want it to be a proper thing, I have to take the plunge and stick my head above the judgement parapet. Worst-case scenario, I just get better at comedy...and maybe have a huge bill.
4. Any cunning plans to get more punters in?
I am hoping a great show about an interesting topic will be enough...oh and blow jobs, everyone gets a free blow job.
5. How much money do you think you'll lose/make this year?
For the same price of this Edinburgh I could have got married. Well if I had a groom instead of crippling intimacy issues... and it would be a very budget wedding. I try not to think of the cost too much, I have IBS.
6. What's your weirdest past Fringe experience?
I did a double act show in 2012 where James Loveridge and I accidentally kicked out fifteen disabled Italians, because, wait for it, their carers were disrupting the show, not them, their carers. We did not even know they were a group until we kicked...sorry- clapped them out whilst singing Bella Napoli. Bad day at the office.
7. What other shows are you hoping to see?
Can't wait to see Aisling Bea, Beth Vyse, Bucket, Lou Sanders, Alex Edelman, Ivo Graham, Sofie Hagen, Stuart Goldsmith, Nick Doody, Harriet Kemsley, Chris Betts, Kracken, Brett Goldstein, Katherine Ryan and Tony Law.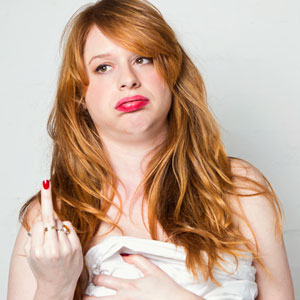 8. If you took over programming a venue, what would your perfect line-up of comedians be?
Tony Law
Dylan Moran
Paul Foot
Tom Bell
James Acaster
Hannibal Buress
Jessica Fostekew
Maria Bamford
Lou Sanders
Alex Francis
Then Wanda Sykes headlining it all.
9. Name the one person you'd rather not bump into during the festival.
James Loveridge...He can stay up till 4am drinking, get up at 8am, go for a run, go flyer, run some errands and do it all in a good mood!! What a bastard. He's bloody human prozac. I get exhausted just watching him... No really the only person that I would not like to bump into is myself, having a shit day. Hopefully that won't happen.
10. Why should audiences pick your show over the 1,700+ other comedy offerings at this year's Fringe?
Because it's Fucking Funny! It's about Skydiving X military lunatics... and if you don't come and see it I may end up living under a bridge post Edinburgh.
'Amy Howerska: Sasspot' is at 6:45pm at Gilded Balloon on 5-16, 18-30 August. Listing