Amused Moose Comedy Awards Top 10 revealed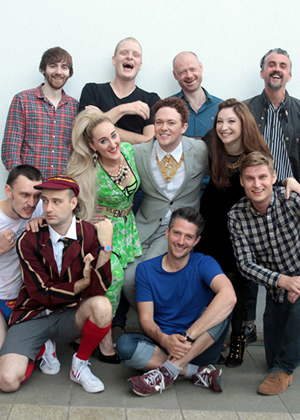 The top 10 Fringe shows competing in the Amused Moose Comedy Awards 2015 have been revealed. They are:
Abbie Murphy: Have A Word
Alistair Barrie: No More Stage 3
Jess Robinson: The Rise Of Mighty Voice
John Hastings: Marked From The Start
Markus Birdman - Grimm Realities
Richard Gadd: Waiting For Gaddot
Scott Bennett: About a Roy (Stories About Me Dad)
Stephen Bailey: Should've Been A Popstar
The comedians above will perform a ten minute segments from their show as part of the Amused Moose Comedy Award Grand Final on Sunday (23rd August 2015) at theSpace Symposium Hall.
The acts will be batting it out for a shiny Moose trophy and their next step on the road to stardom, emulating previous winners Tony Law, Marcel Lucont and Celia Pacquola. The final will be hosted by Mark Dolan, the audience and industry panel will decide the winner and the award will be presented by Kath Mainland (Chief Executive at Edinburgh Festival Fringe Society).
The Amused Moose Comedy Award, which was previously known as The Amused Moose Laughter Award is described as searching for "the best comedy shows at the Edinburgh Festival Fringe from talent on the cusp of fame and fortune." Entry to the Amused Moose Comedy Awards, the 'senior strand' of the Amused Moose competitions, is open to all shows listed in the comedy section of the 2015 Edinburgh Fringe website for at least 15 dates, by performers whose shows have not previously been nominated for a major comedy award. The Top Ten have been decided by an industry panel, including critics, promoters and producers, who have watched all entries online before viewing the long-list, live in Edinburgh.