Eric Davidson
Eric Davidson - It's a Wrong Way to Ukulele
Music / Poetry
8:25pm & other times, see below (50 mins)
7-8, 10-15, 17-22 & 24-29 Aug 2015
theSpace Jury's Inn & other venues, see below
10
This is a 2015 show that has now finished.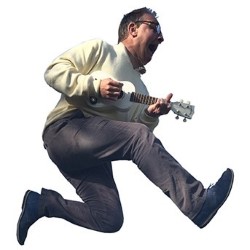 Show details
Music / poetry starring Eric Davidson performed on the following days in August 2015...
The shows at theSpace Jury's Inn are an hour long.
Mon
Tue
Wed
Thu
Fri
Sat
Sun
03
4
5
6
7
8
9
10
11
12
13
14
15
16
17
18
19
20
21
22
23
24
25
26
27
28
29
30
31
1
2
Days marked with a * indicate a different time, room or venue.
Differing performance details
Venue details
More parody, poetry and mischief from the man with the thin white uke. 'I've seen better looking faces on an Easter Island postcard!' (Polynesian Enquirer).
Share this show
Full press release
Midlothian's very own musician, poet and comedian Eric Davidson returns for his seventh consecutive year at the Fringe with It's a Wrong Way to Ukulele. His sell out performances have had audiences literally laughing in the aisles with his dead pan Scottish humour. It is only fair then that in It's a Wrong Way to Ukulele, his topical poetry, parody and wordplay will take aim at modern life along with a host of celebrities and of course, Scotland.
Eric says "I am thoroughly looking forward to this year's show. My material is quirky, funny and at times, thought provoking. There are interesting new works with a couple of old favourites thrown in."
Eric, brought up in the former mining village of Newtongrange and now living in Pathhead, enjoys success on the comedy and corporate circuit throughout Scotland and the UK.
He grew up in a house where, he said, "...laughter filled the air. Growing up, I was nourished on Laurel & Hardy, The Marx Brothers, Inspector Clouseau, Eric Morcambe, Tommy Cooper and the magnificent Spike Milligan. I love The Beatles and when the New Wave movement came along I was fascinated with the writing of Mark E Smith and John Cooper Clarke. Edinburgh in August is special and I am always proud to be involved."
Eric is looking forward to a more intimate space this year in two wonderful venues.
---
Tweets by EricDRhyme