Edward Aczel
Ed Aczel: The Random Flapping of a Butterfly's Wings
Stand-up
5:30pm (1 hour)
7-18 & 20-30 Aug 2015
Free entry (Pay What You Want) / £6
This is a 2015 show that has now finished.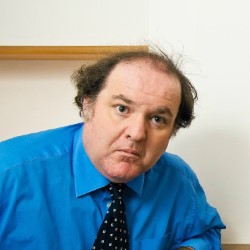 Show details
Stand-up show starring Edward Aczel performed on the following days in August 2015...
Mon
Tue
Wed
Thu
Fri
Sat
Sun
03
4
5
6
7
8
9
10
11
12
13
14
15
16
17
18
19
20
21
22
23
24
25
26
27
28
29
30
31
1
2
Venue details
Ed plans to expose the audience to plenty of ill-thought through approaches to comedy in the search for an idea which will improve human existence. He knows his own limitations so expects the audience to do the actual rocket science. His offer is to 'facilitate' the garden by which the 'flower' will 'grow'. 'One of the strangest, and finest, hours of comedy I'd ever seen' (New Yorker). 'Perhaps Britain's greatest living anti-comedian' (Guardian). Malcolm Hardee Award Winner. ***** (Time Out), **** (Times), **** (Herald).
Share this show
Reviews
Press coverage
Full press release
Ed Aczel 'Britain's greatest living anti-comedian' Guardian, returns to the Edinburgh Festival Fringe with his surly contribution to 'comedy'. Ed brings The Random Flapping of a Butterfly's Wings to The Hive in Bob Slayer's Heroes of the Fringe as Ed tries once again to nail down the nature of existence.
Aczel is known for not following the rules of stand-up comedy and he aims to use his show with help of the Chaos Theory to change the world once and for all but in doing it may turn out to be too complicated. He asks whether you can have your cake and eat it - i.e. seek to change human consciousness forever and keep your weekends free. Ed includes a couple of amusingly circular stories about his life, which thankfully don't last long. Bringing Maths, History and Improv to life for beginners, he explores his own inner psyche with a section analysing his dreams - and then tries not to get too paranoid.
Ed has been a well-known 'maverick' comedian for 10 years and as well as performing his world changing (fingers crossed!) comedy, Ed has recently starred in football sitcom Grass Roots (London Live). Ed has appeared on BBC Comedy at the Fringe (BBC) and Jimmy Carr's Comedy Idols (Channel 4). He has performed stand-up for Happy Mondays, Loose Ends and Pick of the Week (BBC Radio 4). He has performed sell-out solo shows at the Fringe receiving rave reviews and performed as part of the BBC Comedy at the Edinburgh Festival Fringe. Ed also won the Malcolm Hardee Award for Comic Originality and came runner up in the BBC Comedy Awards.
Video
---
Tweets by edwardaczel