Derek Ryan
Derek Ryan: The Slaughterhouse Rules - Uncut! (Work in Progress)
Stand-up
6:45pm (45 mins)
8-14 Aug 2015
Free
This is a 2015 show that has now finished.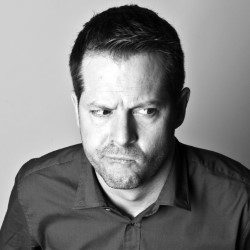 The listing for this show in the printed programme is wrong. The following details are more likely to be correct, but we suggest you independently check.
Show details
Stand-up show starring Derek Ryan performed on the following days in August 2015...
Mon
Tue
Wed
Thu
Fri
Sat
Sun
03
4
5
6
7
8
9
10
11
12
13
14
15
16
17
18
19
20
21
22
23
24
25
26
27
28
29
30
31
1
2
Venue details
Dying is easy... Irish comedian Derek Ryan has a respectable amount of near-death experience. He spent years employed in abattoirs and graveyards. He's past the half-way mark, despite several near misses, so he's pretty much more dead than alive. And he's from a country obsessed with the subject. In this, his third solo show, he presents his own light-hearted take on the one show to which we're all invited: the Big D. It's much, much cheerier than it sounds.
Share this show