Dearly Beloved
Dearly Beloved
Theatre
2:45pm (65 mins)
7-8, 10-15, 17-22 & 24-29 Aug 2015
4 - 7.50
This is a 2015 show that has now finished.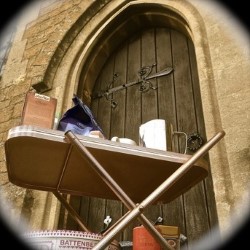 Show details
Theatre performed on the following days in August 2015...
Mon
Tue
Wed
Thu
Fri
Sat
Sun
03
4
5
6
7
8
9
10
11
12
13
14
15
16
17
18
19
20
21
22
23
24
25
26
27
28
29
30
31
1
2
Venue details
A single mother, a businessman and a 14-year-old girl find themselves trapped together in a mysterious room. Brought together by unknown persons, Lacey, Peter and Abbie have nothing in common except a desire to escape. Each of them has questions, but can this unlikely trio work together to find the answers that will set them free? Dearly Beloved is a heart-warming comedy drama by comedian and writer Sarah Archer, that will take the audience on an emotional roller coaster of laughter and tears.
Share this show
Reviews
Full press release
A thirteen year old girl, a middle aged business man and a twenty something single mother, are wrenched from their everyday lives to find themselves trapped together in a mysterious room. Abbie, Peter and Lacey are thrown into a world of confusion and are desperate to find a way out. Following the arrival of a tea lady, who offers cryptic answers as well as the perfect cuppa', they realise that in order to escape, they will have to confront ghosts and share secrets they thought they'd buried in the past. In this room they have no choice but to put aside their masks and bare their souls.
The play deals with some challenging themes, and the journey of these three people throws up questions for all of us, juxtaposing heart rending and socially taboo themes with laughter, pathos and joy.
Dearly Beloved is comedian, Sarah Archer's new play ... "I wanted to combine my love of a great story with making people laugh. There's a number of twists and turns that I hope will keep the audience gripped until the very end." Sarah is reticent to give away much of the plot, "there are a number of 'aah' and 'aha' moments that the preview audiences have loved, and I wouldn't want to spoil it!".
Edinburgh 2015:
theSpace @ Niddry St (Lower) (V9), Niddry Street, EH1 1TH, 7th-29th August 2015 (every day excluding Sundays), 20:50, duration 65minutes.
---
Tweets by DBEd2015