Dane Baptiste
Dane Baptiste: Reasonable Doubts
Stand-up
7:15pm (1 hour)
5-16 & 18-30 Aug 2015
7 - 13
This is a 2015 show that has now finished.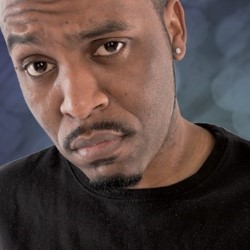 Show details
Stand-up show starring Dane Baptiste performed on the following days in August 2015...
Mon
Tue
Wed
Thu
Fri
Sat
Sun
03
4
5
6
7
8
9
10
11
12
13
14
15
16
17
18
19
20
21
22
23
24
25
26
27
28
29
30
31
1
2
Venue details
Foster's Edinburgh Comedy Award Best Newcomer nominee 2014. Dane Baptiste returns to the Edinburgh Fringe with a brand new show about doubt. His doubts. Your doubts. Our doubts. Expect fresh perspectives from this original and provocative rising star. The Independent's Face to Watch in 2015. As seen on Sweat the Small Stuff (BBC Three), Virtually Famous (E4) and Live at the Comedy Store (Comedy Central). As heard on BBC Radio 2 and Radio 4. 'Observational comedy at its finest' (Independent). 'Baptiste is a comical genius' **** (EdFestMag.com). 'A thunderingly charismatic comic' (Guardian).
Share this show
Reviews
Press coverage
Full press release
Since last August it has been non-stop for the Independent newspapers 'Face To Watch in 2015', Dane Baptiste. He had incredible success with his debut show Citizen Dane (which saw him nominated for Best Newcomer in both the Fosters Comedy Awards at last year's Edinburgh Fringe Festival and again in this year's Chortle awards), he has completed two sold out runs at The Soho Theatre (with additional dates added due to phenomenal demand), written and stared in his own sitcom pilot for BBC Three (which will be out later this year) and performed at the Melbourne Comedy Festival. This summer he will be supporting Katherine Ryan on her nationwide tour and performing on the Comedy Stage at Latitude Festival.
He returns to the Edinburgh Fringe with a brand new show called Reasonable Doubts. During the show he takes the audience on a journey through his doubts (as a person, his career, his relationships), our doubts (as a room & as a nation - from the recent Election to our celebrity obsession) and finally to Global doubts. Dane is known for his distinctive stage persona & his brilliant take on all of life's irritations. Exceptionally prolific - Baptiste is already being hailed as one of the most exciting acts to break in years!
Dane's life has changed in the last 6 months; he has achieved things that he had previously only dreamt about. But now he has doubts. Dane is questioning everything. Can he be a comedian distinct from the other seven black comics known in the UK? Will he now be considered the go-to guy for any formats that require ethnicity? Dane tells the audience that being the token gets you no respect from either sides of the colour lines.
Dane explains that with the advent of reality TV it seems that no one wants a regular career. Everyone wants to be famous. No one has barriers anymore. There was a show called Sex Box. Is that what we've become? But maybe he's thinking about it too much. He has doubts about where we are going as a civilization. Our morals seem to be in decline. We used to tell our children that Father Christmas would bring bad kids coal, but now those that control fossil fuels are amongst the richest. How can ISIS recruit so well online with all the trolls and social networks making fact out of ridiculous opinion? Who knows or even cares about politics today? UKIP have policies about immigration but none about white problems - inflation, deregulation and an obese nation. Dane has doubts that he'll ever have a successful relationship. People live a lot longer - and it was easy to be faithful if you were at sea for 3 months!
Dane recently appeared on 'Melbourne International Comedy Festival Gala' (Network Ten, Australia) 'Listomania' (BBC Radio 2), Sweat the Small Stuff (BBC Three), Virtually Famous (E4) and Celebrity Squares (ITV1). Previous credits include Seann Walsh's Comedy Spectacular (BBC Three), Live from The Comedy Store (Comedy Central) and the Comedy Marathon (BBC Three). His radio credits include Radio 1: Live from the Fringe as well as Phil and Alice Comedy Loz. Writing credits include Sunny D (own sitcom pilot for BBC Three), The Johnny and Inel Show Series 2 (with his own recurring sketch strand) & The Johnny and Inel Show Series 1 (Nominated for 2 RTS Awards).
---
Tweets by DaneBaptweets