Cormac Friel
Breakfast Epiphanies
Storytelling
7:40pm (1 hour)
6-17 & 19-28 Aug 2015
4 - 5
This is a 2015 show that has now finished.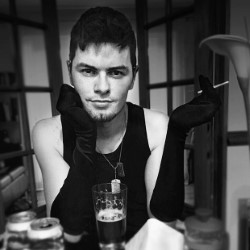 Show details
Storytelling starring Cormac Friel performed on the following days in August 2015...
Mon
Tue
Wed
Thu
Fri
Sat
Sun
03
4
5
6
7
8
9
10
11
12
13
14
15
16
17
18
19
20
21
22
23
24
25
26
27
28
29
30
31
1
2
Venue details
They told him the world was his oyster. Nowadays, he lives in ex-council housing and cannot afford an oyster. His parents told him he could achieve anything he put his mind to. His parents reassessed that statement when he put his mind to show business. This guy assumed he'd win Oscars, earn millions and ultimately rule the world until the realities of life forced him to recalibrate these expectations. Discover how a morning encounter with an LA waitress quashed this millennial's delusions of grandeur. Come and Golightly. 'Truly hilarious' **** (EdfringeReview.com). 'Incredibly funny dark material' **** (ScotsGay).
Share this show
Reviews
Press coverage
Full press release
Bored of watching delusional performers convince you they are the next best thing? Tired of writing reviews that quash the dreams of penniless performers? Well why not come to Breakfast Epiphanies and hear the story about how one waitress at a Beverley Hills restaurant made me realise my place and my life's limitations in one short, morning meal? Despite few words, this woman struck a chord with a more hard-hitting reality check than any scathing review could but do, of course, feel free to give her a challenge.
Raised in rural Ireland as a middle-child with 39 cousins, it is unclear why I believed myself so special. My childhood was essentially sixteen years deciding between whether I would win the Olympic gold medal for the 10,000m or the Academy Award for Best Actor. I did spend considerably less time running and learning how to act but considering all I would have to do achieve either was believe in myself, those were hardly priorities. One (or if I was lucky - both) of these things were going to happen and I was very excited to find out which.
Fast forward to life after Education and things have changed slightly. I thought the world would be my oyster yet I now live in Leeds ex-council housing and cannot afford an oyster! Come learn how woeful Harry Potter auditions, miserly Las Vegas men and an uninspiring teacher brought me to here - a month of performing in a damp cave.
---
Tweets by cormedy
Visitor reviews

Aastalinda
I've been a HUGE fan of this comedian's performances ever since seeing him on stage for the first time back in 2013. It's been wonderful to watch his progression throughout each Fringe festival. This year the show was elegantly put together and his rather crass and naughty humour works really well with the elements of warmth and sentimentality that I recognised in his performance this time 'round. I LOVED the storyline and the theme of of 'im special and can be anything i want' - which rings very true for us twentysomethings. This comedian has brilliant stage presence and you can tell he's really loving making us laugh! He manages to be captivating for an entire hour, his confidence shines through and is both appealing and inspiring. Can't wait to see what he'll bring to the festival next year, will be coming back!