Colin Cloud
Colin Cloud: Kills
Magic
6:20pm & other times, see below (1 hour)
5-16 & 18-30 Aug 2015
8 - 10.50
This is a 2015 show that has now finished.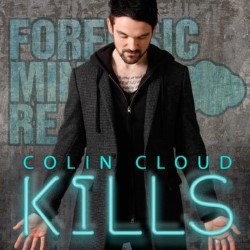 Show details
Magic starring Colin Cloud performed on the following days in August 2015...
Mon
Tue
Wed
Thu
Fri
Sat
Sun
03
4
5
6
7
8
9
10
11
12
13
14
15
16
17
18
19
20
21
22
23
24
25
26
27
28
29
30
31
1
2
Days marked with a + indicate multiple performances.
Differing performance details
22 Aug, 11:50pm
29 Aug, 11:50pm
Venue details
In his brand new show Cloud will deduce everything about you and explain how he did it, accurately predict your behaviour, turn someone into an actual genius and, quite literally, get away with murder right before your very eyes. His awe-inspiring powers of deduction will enthral, delight and terrify you. Colin Cloud is potentially the most dangerous man in the world. Luckily, he's on our side. We hope. 'Master of deduction ... incredible Sherlock Holmes-esque detection skills' (Edinburgh247.com). ***** (EdinburghSpotlight.com). ***** (BroadwayBaby.com). ***** (Edinburgh Evening News). ***** (TheEdinburghReporter.co.uk).
Share this show
Reviews
Press coverage
Full press release
Look at your hands, your nails and the heels of your shoes. What do you see? Nothing? Imagine someone who could look at those details and see everything. EVERYTHING. Only, you don't have to imagine because this is precisely what Colin Cloud does. He'll know what you've had for lunch, where you've been that day, what you do for a living, the car you drive, even your PIN code. He'll read you like a book. He's already sure you're quite the page-turner. He has left people convinced that he does indeed have mystical skills of reading minds and influencing outcomes.
In 2014, Colin Cloud became the runaway success of the Edinburgh Festival Fringe with 23 sold out performances and multiple 5 star reviews. He also signed a development deal with NBC Universal in the US and production on his first TV series is underway. In his brand new show Edinburgh Festival show entitled Colin Cloud: Kills, Cloud will, quite literally, get away with murder. (Well, maybe not actual murder. That would be wrong. And illegal.)
You'll understand why he's never lost a game of poker, learn how to discover the phone number of anyone you like, and recall information from the recesses of your mind. He will even share with you the ability to connect with people on a deeper and more meaningful level than you've ever experienced before. Colin Cloud is potentially the most dangerous man in the world. Luckily, he's on our side. We hope!
Colin Cloud is a forensic scientist who mixes mind magic and brain science with his love of Arthur Conan Doyle's works - he's the closest thing around to the real life Sherlock Holmes. Mind reader and spoon-bender Uri Geller described him as "one of the greatest thought readers of all time". He left Jonathan Ross speechless, Ant and Dec agog with disbelief. He has performed for professional sceptics like Penn and Teller and wowed the hard-to-please Simon Cowell.
---
Tweets by Colin_Cloud