Cheekydinner
Dead Ghost Star
Sketch show
5:30pm (1 hour)
6-17, 19-20 & 23-29 Aug 2015
Free
This is a 2015 show that has now finished.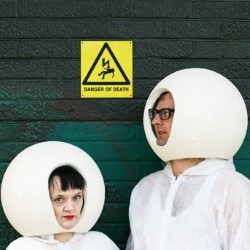 The listing for this show in the printed programme is wrong. The following details are more likely to be correct, but we suggest you independently check.
Mon
Tue
Wed
Thu
Fri
Sat
Sun
03
4
5
6
7
8
9
10
11
12
13
14
15
16
17
18
19
20
21
22
23
24
25
26
27
28
29
30
31
1
2
Venue details
Free trip to space. Hopefully a return trip. 'Like Spike Milligan on MDMA' (List). 'A weird and wonderful double act of surreal, whimsical and thoroughly endearing comedy' **** (BroadwayBaby.com). Two Complete Idiots (Foster's Award Winner, Dr Brown) take you on a trip to space and beyond and (maybe) bring you back to Earth. Mixing physical comedy, storytelling, science and philosophy, Dead Ghost Star is for 'those who like an astral flight of fantasy into the very weird' (List).
Share this show
Reviews
Press coverage
Full press release
Thought it would cost £250,000 to go into space, and that you had to go with Richard Branson? Wrong. Explore the universe (black holes, aliens, time travel, talking stars) with Cheekydinner FOR FREE. A small donation is suggested if they get you back to Earth safely (it's a big if).
Described as 'enjoyably batshit - for those who like an astral flight of fantasy into the very weird' (List) when it premiered at Edinburgh Fringe last year, Dead Ghost Star is now back and more batshit than ever, thanks to the help of clown director, Lucy Hopkins (Le Foulard).
These two 'COMPLETE IDIOTS' (Foster's Award Winner, Dr Brown) are:
Cheekykita: NATYs finalist 2015; Max Turner Award second prize 2015; and 'the biggest loony of the festival this year' (Prague Post).
Mr Dinner: Former presenter of Channel 4's Thisisaknife; 'like a strange uncle' (Radio Times); and also the founder of London's underground training hub for clowns, Clown Camp.
Dead Ghost Star is a mind-blowing cocktail of physical comedy, storytelling and science. Enter the rocket in August and you'll not look back.
---
Credits
Tweets by cheekykita1