Bronston Jones
Bronston Jones: God Bless 'Merica - Free
Stand-up
9:45pm (1 hour)
6-30 Aug 2015
Free
This is a 2015 show that has now finished.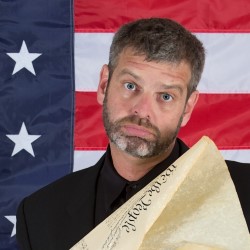 Show details
Stand-up show starring Bronston Jones performed on the following days in August 2015...
Mon
Tue
Wed
Thu
Fri
Sat
Sun
03
4
5
6
7
8
9
10
11
12
13
14
15
16
17
18
19
20
21
22
23
24
25
26
27
28
29
30
31
1
2
Venue details
Bronston Jones loves his country. Love can drive you crazy. And sometimes true love is tough love. Recent affairs have made this atheist so depressed he finds himself saying God bless America because it will take a miracle to fix it.
Share this show
Reviews
Press coverage
Full press release
Bronston Jones is American. He loves his country. But love can drive you nuts. He is crazy about the beautiful ideals of America: freedom, equality and opportunity. But when someone you love isn't living up to their potential, love inspires pep talks and encouragement. And when someone you love is on a downward spiral towards rock bottom, then true love requires tough love. And Bronston wants to give America an intervention. He might be atheist, but he's gotten so depressed he's found himself praying to a higher power: "God Bless America, because it'll take a miracle to fix it."
WHO IS BRONSTON JONES?
Some might consider Bronston lascivious, seditious and blasphemous for pulling punch lines from both his politics and his pants (not politicians' pants, he's not that disgusting). Whether the jokes are dirty or not, his charmingly conversational, intellectual bits are based in unflinching honesty and humbling Truth.
This is Bronston's fourth Fringe. Bronston's show Life's Short. I'm Not. ('12, '13) was primarily storytelling stand-up about social issues and his social life. Last year's What Comes Out was short for "let's see what comes out of my mouth" as each show set list changed depending on which stories each crowd inspired. Bronston co-created LOLympics Live 2012 with Marcus Ryan. In '13 & '14, he co-hosted the LOLympic games with Martin Mor.
Bronston lives in Venice Beach in Los Angeles where he is resident host of Venice Underground Comedy, one of LA's biggest independent weekly shows. He also hosts The Awful Truth comedy show, which features storytellers and social, political comics who revel in the Truth.
---
Tweets by Bronicus