Bridget Christie
Bridget Christie: A Book For Her
Stand-up / Storytelling
11am (1 hour)
8-16 & 18-31 Aug 2015
8 - 9
This is a 2015 show that has now finished.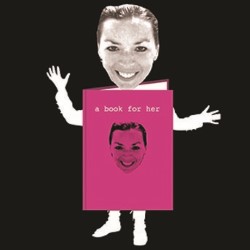 Show details
Stand-up show / storytelling starring Bridget Christie performed on the following days in August 2015...
Mon
Tue
Wed
Thu
Fri
Sat
Sun
03
4
5
6
7
8
9
10
11
12
13
14
15
16
17
18
19
20
21
22
23
24
25
26
27
28
29
30
31
1
2
Venue details
A brand new show to launch multi-award winning Christie's literary debut A Book for Her (and for him, if he can read). Come and enjoy 50 minutes of new material followed by a 10-minute book signing. 'Astonishingly complex and uproariously funny' (Guardian). 'Pretty much flawless' ***** (Telegraph). 'Astonishing' ***** (Chortle.co.uk). 'A brilliantly constructed show' ***** (TheArtsDesk.com). ***** (Metro). ***** (Big Issue). ***** (Herald). ***** (Mirror), ***** (Sunday Times). 'Fantastically funny' **** (Guardian). 'Laser-focussed and brilliantly sustained.' ***** (Independent).
Share this show
Reviews
Press coverage
Full press release
Why has Bridget been sending her stained underpants to George Osborne at HM Treasury every month? Which method actor has been playing the character comedian Nigel Farage since 2010? Is Rachel Dolezal black or white? What's the difference between Eddie Izzard and Caitlyn Jenner? All this and more will be revealed in Bridget's tenth solo Edinburgh show. Followed by a ten-minute book signing.
Following her hugely successful, award-winning shows A Bic For Her and An Ungrateful Woman, and her first book A Book For Her (Century, Random House) - out 2nd July 2015 - which has gained universal praise, Bridget Christie returns Edinburgh's Stand Comedy Club with her brand new show, also called A Book For Her.
When Bridget's Fosters Comedy Award-winning show A Bic For Her ran at Soho Theatre in 2013, it broke the Theatre's record for the best selling comedy show ever. It then went on UK tour, on a double bill with An Ungrateful Woman, and won lots of awards.
Bridget has just been nominated for the Red Magazine Creative Woman Of The Year Award.
After a decade of titting about on the circuit, Bridget Christie (from Radio 4's Bridget Christie Minds the Gap, Dilemma, Heresy, News Quiz, The Unbelievable Truth, BBC One's Have I Got News For You, It's Kevin, Channel 4's Cardinal Burns, ITV1's Celebrity Squares and Comedy Central's Alternative Comedy Experience) has become inadvertently successful. Her 2013 show, the "feminist-themed" A Bic For Her, won the Foster's Edinburgh Comedy Award, the South Bank Sky Arts Award for Best Comedy, the Chortle Award for Best Show and became the top-selling comedy show ever at the Soho Theatre. Her also "feminist-themed" radio series, Bridget Christie Minds the Gap, won the very prestigious Rose d'Or Award and two Chortle Award for Best Radio as well as being nominated for Best Comedy at the Radio Academy Awards. This all happened when she decided to try and write some actual material, rather than arsing about in wigs, wearing fake hands and pretending to be an ant.
---
Tweets by BridgetChristie