Best Top Quality 5 Star International
The Best Top Quality 5-star International Gold Standard 100% Extraordinary Cabaret At The Fringe Ever: Top Acts Guaranteed
Cabaret
4:30pm (1 hour)
8-29 Aug 2015
Free
This is a 2015 show that has now finished.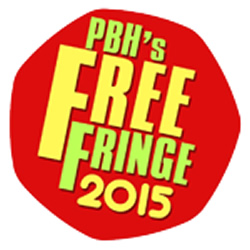 Show details
Cabaret starring Alastair Clark performed on the following days in August 2015...
Mon
Tue
Wed
Thu
Fri
Sat
Sun
03
4
5
6
7
8
9
10
11
12
13
14
15
16
17
18
19
20
21
22
23
24
25
26
27
28
29
30
31
1
2
Venue details
Brochure note
This show was not listed in the official Fringe programme so you may not find details elsewhere.
Alastair's putting on the best cabaret ever. Chris has definitely booked the best international stars. Chris and Alastair are definitely not "clowns and chancers who should be banned from the fringe". #TBTQ5SIGS100%ECATFE:TAG
Share this show
Tweets by alastair_clark
Visitor reviews

Bunny82
Having seen both performers individual shows, I went into the best cabaret with a reasonable idea of what to expect. 30 seconds into Van Halens "Jump", I realised I was very wrong indeed! The premise, is simple - Alastair wants to put on the best cabaret at the fringe and has entrusted his right hand man, Chris, to book all the acts. Without wishing to spoil it for anyone, they encounter a few 'autocorrect' errors and sudden deaths, creating a situation where all the acts look suspiciously similar to Alastair's hapless assistant. This was easily the most fun I had in Edinburgh! It was silly, ridiculous and I found I was still laughing at the memories of the show many hours later. The most interesting relationship is of that of Alastair and the audience as they try to ascertain if he is in on us being fooled by the "international acts". There is a real collective empathy as his dream dissolves before his eyes and a genuine support as he tries, somewhat unconventionally, to claw it all back. There are so many moments of genius, it's hard to refer to them all but Chris ability to portray the numerous acts with such believably, in such quick succession, is a real acting masterclass. Alastair's ability to almost become an audience member, watching this unfold with us whilst trying to control the mayhem, shows real skill as a performer. Between them, they have created something so joyful and genuinely hilarious, its hard to imagine the fringe actually has a better cabaret! Mission accomplished gentlemen !!