Annie McGrath & Nico Tatarowicz
Annie McGrath and Nico Tatarowicz #Pray4AnnieAndNico
Stand-up
8pm (55 mins)
7-17, 19-23, 25-29 Aug 2015
Free
This is a 2015 show that has now finished.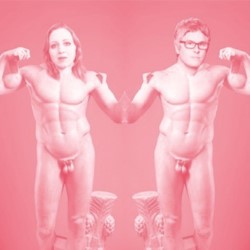 Show details
The listing for this show in the printed programme may be wrong. The following details are more likely to be correct, but we suggest you independently check.
Stand-up starring Nico Tatarowicz and Annie McGrath that was performed at Just The Tonic at the Caves at 8pm for 55 minutes, on the following days in August 2015.
Mon
Tue
Wed
Thu
Fri
Sat
Sun
29
30
31
1
2
3
4
5
6
7
8
9
10
11
12
13
14
15
16
17
18
19
20
21
22
23
24
25
26
27
28
29
30
31
Venue details
Annie has the face of an angel and the mouth of a gutter. She is one half of double act Twins (not yet seen on TV) and is half a person in her own right. 'Spot-on delivery' (The Tab.co.uk). 'Flatly caustic' (Chortle.co.uk). Nico is so steeped in comedy he actually disgusts himself. Best known as a seasoned writer and performer for TV shows like Crackanory, Very Important People, Armstrong and Miller, and Murder In Successville, he is now bursting to share some of his very own comic creations with the world. Works in progress...
Share this page
Press coverage