Aidan Killian
Aidan Killian: Holy Trinity of Whistle Blowers
Storytelling
2:30pm (50 mins)
7-17 & 19-31 Aug 2015
Free entry (Pay What You Want) / £5
This is a 2015 show that has now finished.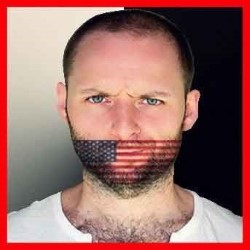 Show details
Storytelling starring Aidan Killian performed on the following days in August 2015...
Mon
Tue
Wed
Thu
Fri
Sat
Sun
03
4
5
6
7
8
9
10
11
12
13
14
15
16
17
18
19
20
21
22
23
24
25
26
27
28
29
30
31
1
2
Venue details
The truth will set you free... unless you're a whistle-blower. Julian Assange, Chelsea Manning and Edward Snowden. This passionate one-man comedy show is about standing up and speaking the truth. Expect intelligent comedy that makes you think, feel and laugh at the insanity of the world. 'Raw and stimulating ... Tremendously engaging ... You will see nothing else in Edinburgh to compare with this' **** (Chortle.co.uk). 'Beautiful riffs' (Scotsman). Pay-What-You-Want.info
Share this show
Reviews
Press coverage
Full press release
If you had access to government information that you thought would be crucial for the world to know, would you share it? When those who speak the truth get publically demonised, should we sit in silence and allow them to be condemned? Is the revelation that our governments commit war crimes and spy on us more important than whether the whistleblower bursts condoms or chooses to wear high heels?
These are the questions Aidan Killian, "Ireland's Hottest Comedian" (One World Chronicle), asks in The Holy Trinity of Whistleblowers, his passion-fuelled new show that's set to spark fires and inspire audiences at this year's Edinburgh Fringe Festival.
In 2014, Aidan took on religion with his Jesus Versus Buddha show, with the running theme of "The truth will set you free." Unfortunately, this doesn't seem to be the case for Julian Assange, Private Manning or Edward Snowden. Such is the theme of Whistleblowers, an eye-opening show that questions authority and challenges audiences to put themselves in the shoes of Assange and his fellow messengers. Simultaneously, Aidan challenges himself by tackling such controversial issues as war crimes, global corruption, Israel-Palestine and government spying, all while sending ripples of laughter throughout his engaged audiences.
About Aidan
"I want to push boundaries, challenge minds, open hearts... and I suppose a few laughs would be good too." - Aidan Killian
Aidan is a spirited and charismatic comedian who has been compared to Russell Brand and Tommy Tiernan by Chortle. His intelligent, impassioned and hilarious rants have sold out theatres in New York, London and all over Asia. Aidan is renowned for his thought-provoking, finely-honed material and tenacious, yet charming delivery.
Aidan takes stand-up to the next level, using humour as a vessel by which to deliver positive messages of truth and compassion. What you see in this show will stay with you forever; you will never again view the news in the same light.
---
Tweets by aidankillian