Abigoliah Schamaun
Abigoliah Schamaun: Post-Coital Confessions
Stand-up / Storytelling
5:15pm (1 hour)
5-18 & 20-31 Aug 2015
7.50 - 10
This is a 2015 show that has now finished.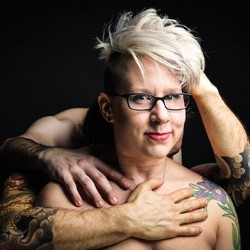 Show details
Stand-up show / storytelling starring Abigoliah Schamaun performed on the following days in August 2015...
Mon
Tue
Wed
Thu
Fri
Sat
Sun
03
4
5
6
7
8
9
10
11
12
13
14
15
16
17
18
19
20
21
22
23
24
25
26
27
28
29
30
31
1
2
Venue details
Man. I thought sleeping with you would help me get over Diana. But I feel horrible. Just one of the things said to Abigoliah after sex. This NYC comic reflects on her own amorous affairs then asks: what's the weirdest thing you've been told post-coitus? Sometimes it's bizarre, other times it makes you fall in love. But it's always interesting and often a bit wrong. Winner Moth StorySLAM, NYC. 'A comedy whirl-wind!' ***** (ThreeWeeks). 'Hilarious stories' **** (Skinny). 'Not a run of the mill comic. Draws howls of laughter from the packed house' **** (One4Review.co.uk).
Share this show
Reviews
Press coverage
Full press release
"Man, I thought sleeping with you would help me get over Diana but I feel horrible."...As disclosed to Abigoliah, by one New Yorker post-coitus.
After a fantastically received Edinburgh show in 2014, NYC's 'Queen of the obscene' (Sunday Herald), has moved to London to conquer the UK with her unique brand of ballsy-but-poignant comedy.
Once settled in London town, during one post-coital encounter, a British lover (un-touchy but honest) said something very interesting, which she found surprised her, and made her think about our attitudes to sex, gender, vulnerability and honesty. So much so in fact that Abigoliah began to reflect on her amorous affairs. And then like a modern day post-coital Nancy Drew, she put on her best detective shoes and took to the internet in search of the truth. And it turns out that if you ask strangers 'what's the weirdest thing you've been told post-coitus?' You will receive a slew of responses.
And it is armed with a plethora of intimate post-coital confessions that Abigoliah has written her latest show After le petite mort has stripped away our mask those are two of the most honest minutes one ever experiences. But does that mean they're nice? Is what's underneath attractive? Odd? Scary? Endearing? Gross? Ms Schamaun has the answers.
Abigoliah is a story teller, a yoga instructor, a fire eater and a teller of truth, mixing her stories with a love of conversation.
A performer with disarming honesty and a tender heart, Abigoliah talks candidly about topics we may consider taboo, bringing you in and holding tight. Post-coital confessions are sometimes bizarre, always interesting and often a bit wrong, just like life really...
Abigoliah started stand up in New York and has had international success touring in the US, UK, South East Asia, Norway, Denmark and Australia. She's appeared as a guest on BBC Radio 4 and was cast as a principal part in the TV pilot, How Come I'm not Famous Yet. She has an extensive background in theatre and improvisation and a BFA in Musical Theatre and a minor in creative writing.
Video
---
Tweets by abigoliah