Lynsey Smiles
101 Reasons Why I #@%$ Katie Hopkins
Theatre
6:35pm (1 hour)
6-11, 13-18, 20-25 & 27-30 Aug 2015
8
This is a 2015 show that has now finished.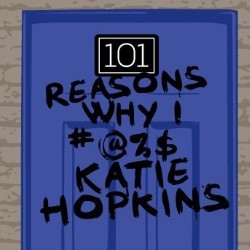 Show details
Theatre starring Lynsey Smiles performed on the following days in August 2015...
Mon
Tue
Wed
Thu
Fri
Sat
Sun
03
4
5
6
7
8
9
10
11
12
13
14
15
16
17
18
19
20
21
22
23
24
25
26
27
28
29
30
31
1
2
Venue details
Katie Hopkins! The human incarnation of Marmite. Love her or hate her, she never fails to deliver a reaction. But is she really that bad? Is she our pantomime baddie? Or just a strongly outspoken, mildly famous woman? Join this stay at home, Birkenstock wearing, vanilla opinionated Mum on her journey as she questions the opinions and preferences of Britain's favourite rent-a-gob. An energetic one-woman rant guaranteed to lead you on an unexpected emotional rollercoaster before asking the audience, which four letter word suits the title best.
Share this show
Reviews
Tweets by 101reasons_why
Visitor reviews

Gareth SCRATCHERD
Lynsey Smyles has brought us on her first foray into the fringe an interesting and witty look into the new world craze of " celebrity" and how social media can so easily be used and abused to make an otherwise talentless nobody become a celebrity. As I loathe Katie Hopkins she for me was the perfect vehicle to keep me tittering away.. Maybe 5 stars was being a tad generous but no more than 1 star was plain mean to the other extreme. Reviewers can be just as marmite as Katie Hopkins....... Thankfully I saw the show before the review was published or I may have changed my mind, I can be shallow like that but sincerely hope others are not.
MickeyM
Lynsey on her first foray into the fringe brings us a witty and interesting look into the new world craze of " celebrity" and how social media can take a relatively unknown and unpopular character and make them " famous" ............ The fact I dislike Katie Hopkins so much makes her a delightful target and vehicle for this show but it makes you question so much more " what has the world come to " Well worth the ticket price for an hour spent tittering away to myself and 5 stars as it is nice to be nice and not like Marmite ;-) Thanks for the experience and hope the rest of the fringe goes well for you.......