Will Franken
Will Franken: The Stuff They Put In Sleep
Comedy
10:40pm (1 hour)
31 Jul; 1-11 & 13-24 Aug 2014
10 - 11
This is a 2014 show that has now finished.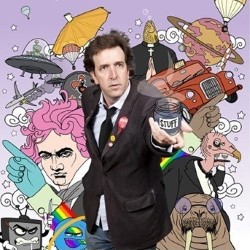 Show details
Comedy starring Will Franken performed on the following days in August 2014...
| Mon | Tue | Wed | Thu | Fri | Sat | Sun |
| --- | --- | --- | --- | --- | --- | --- |
| | 29 | 30 | 31 | 1 | 2 | 3 |
| 4 | 5 | 6 | 7 | 8 | 9 | 10 |
| 11 | 12 | 13 | 14 | 15 | 16 | 17 |
| 18 | 19 | 20 | 21 | 22 | 23 | 24 |
| 25 | 26 | 27 | 28 | 29 | 30 | 31 |
Venue details
Critically acclaimed surrealistic character comedian of myriad personalities unveils his latest rapid fire absurdist assault on the fragilities of human identity, platitudes of postmodern sanctimony, and presupposition of collective reality. An hilarious orphic descent into a depraved, unapologetic subconscious propelled by the manifold voices of one man. 'The darkness of Franken's imagination is like Chris Morris... you can't take your eyes off these inspired outpourings' **** (Guardian). 'Absorbing, silly, and perfectly paced ... a stonkingly good performer' **** (Metro). 'Will Franken is a master of delusion, an id unchained' (Robin Williams).
Share this show
Reviews
Press coverage
Full press release
Critically acclaimed, surrealistic character comedian with a myriad of personalities Will Franken returns this year to the late-night, rock & roll, filth'n'fury ethos of the Just The Tonic at The Caves at 10.40pm with another violent explosion of his kaleidoscopic, manic, and hysterical imagination in his new show The Stuff They Put In Sleep.
The show is his latest rapid-fire absurdist assault on the fragilities of human identity, platitudes of postmodern sanctimony, and naïve presupposition of collective reality. Be prepared to meet Simon Schama as he invites viewers to see the world of ancient Egypt through the eyes of an asshole and an up-to-date chauvinistic urban gangster Sigmund Freud. Meanwhile, an alcoholic LA businessman holds a conference call with a talking can of Coke and bottle of whiskey, whilst a doctor bears the ambiguous news to a patient that the thing he thought was a brain tumour is actually a testicle.
Franken's lifelong Anglophilia and his adventures since he has relocated to the UK come to life when you meet the first working class actor to be hired in Britain since the 'Great Ban of 1983', struggling against his Cockney pride to make it through the taping of a Nando's advert. He even dares to tackle the Scottish accent in a metaphor-laden, politically-searing sendup of the SNP on the eve of the independence referendum. Be forewarned: this is not a show for the faint-of-heart, hyper-sensitive, or just plain daft.
Will is a one-man Monty Python's Flying Circus served American style. He has recorded material for BBC, BBC Radio 4, and Berrum og Beyer (NRK Norwegian Television) and made a pilot for Channel 4 as well as being featured in numerous international comedy festivals including Montreal's prestigious Just For Laughs Festival, HBO's Comedy Festival in Las Vegas and The New York International Fringe Festival. In the UK, his show Things We Did Before Reality debuted at the Edinburgh Festival Fringe and was rated amongst the British Comedy Guide's top 15 shows, before transferring to London's Soho Theatre to critical acclaim.
---
Tweets by WillFranken