Will Adamsdale
Will Adamsdale: Borders
Stand-up
6pm (1 hour)
31 Jul; 1-10 & 12-24 Aug 2014
11.50 - 12.50
This is a 2014 show that has now finished.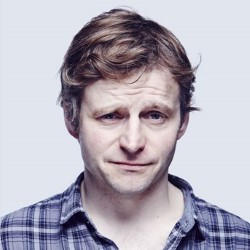 Show details
Stand-up show starring Will Adamsdale performed on the following days in August 2014...
| Mon | Tue | Wed | Thu | Fri | Sat | Sun |
| --- | --- | --- | --- | --- | --- | --- |
| | 29 | 30 | 31 | 1 | 2 | 3 |
| 4 | 5 | 6 | 7 | 8 | 9 | 10 |
| 11 | 12 | 13 | 14 | 15 | 16 | 17 |
| 18 | 19 | 20 | 21 | 22 | 23 | 24 |
| 25 | 26 | 27 | 28 | 29 | 30 | 31 |
Venue details
This show's about borders. Borders over land, across time, down the side of the piece of paper I'm writing this on... (At least that's the plan at the deadline for this blurb. What lies ahead for my plucky little stagecoach of a show as it crosses this borderline? Who knows? The whole thing could well be hijacked by an interest I can't seem to shake in a now extinct tribe of animated people that until recently populated all the advertising for a well-known high street bank). Perrier winner 2004. 'A virtuoso of the transcendentally absurd' (NY Times).
Share this show
Reviews
Press coverage
Full press release
The bold and much-anticipated return of Perrier Award winner, enigmatic force-of-nature and multi-disciplinary genius.
A plucky little stagecoach of a show. Borders - the bold and much-anticipated return of Perrier Award winner, enigmatic force-of-nature, and multi-disciplinary genius, Will Adamsdale. Here he presents an hour about borders; borders over land, across time, down theside of a piece of a paper... A show that forms acute and inviting connections where boundaries exist and environments intersect.
Inspired by his own creative process, Adamsdale himself is renowned for patrolling theborder between comedy and theatre. A somewhat reclusive member of the Fringe comedy community, he is a creative figure continually unburdened by trend or zeitgeist.
Over the last decade Adamsdale has unintentionally held the role of comedy's theatricalgatekeeper. With a performance background routed in devised theatre work, he has become aconduit for the increased influence of divergent performance styles amongst Fringe comedians. Adamsdale has worked with soundscape artists, members of widely-lauded storytelling collective Cartoon De Salvo, and has developed work for both the Royal Courtand Battersea Arts Centre.
Will Adamsdale crash-landed at the Fringe in 2004 with his solo character exploration Jackson's Way - a show that maintains legendary status in the minds of Edinburgh's Fringe-going public. Arriving as a relative unknown for just 10 nights, it was Stewart Lee who championed an extension of the run. Adamsdale ended the festival as unexpected victor at that year's Edinburgh Comedy Award.
He has spent the 10 years since in an uncharted hinterland, flitting between new solo comedy work, and devised theatre. He won a Fringe First in 2006, has taken three shows to New York, and last year created The Victorian in the Wall - an ensemble show that toured the UK, before a month at the Royal Court.
Alongside Borders Adamsdale is also developing The Joke - a show about three men who are trapped in a joke - with funding from Arts Council England. His on-screen credits include Chris Morris' Four Lions, The Boat That Rocked, and Campus (E4).