Tim Key
Tim Key: Single White Slut
Comedy
9:40pm (1 hour)
13-25 Aug 2014
10 - 16
This is a 2014 show that has now finished.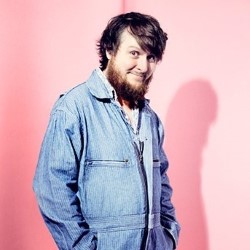 Show details
Comedy starring Tim Key performed on the following days in August 2014...
| Mon | Tue | Wed | Thu | Fri | Sat | Sun |
| --- | --- | --- | --- | --- | --- | --- |
| | 29 | 30 | 31 | 1 | 2 | 3 |
| 4 | 5 | 6 | 7 | 8 | 9 | 10 |
| 11 | 12 | 13 | 14 | 15 | 16 | 17 |
| 18 | 19 | 20 | 21 | 22 | 23 | 24 |
| 25 | 26 | 27 | 28 | 29 | 30 | 31 |
Venue details
Key (37 now) wades back to Edinburgh, climbs into his poetry clothes and leans against his mic stand for another hour. Now charming, he will recollect simple tales of love, gaze dead-eyed at the ladies, recite verse and do basic talking. A lot of fairly grubby water's sloshed under Key's bridge of late so he'll be churning that up. He's also fairly interested to lift the lid on Hollywood. There'll be some Indian poetry, Indian beer and, if he can get his act together, a spotlight. Other potential themes will be owls and maybe fairies.
Share this show
Reviews
Press coverage
Full press release
Edinburgh Comedy Award winner, Time Out Comedy Performer of the Year, BAFTA-nominee, and star of Alan Partridge: Alpha Papa returns with a hugely inventive new solo show.
Following two sold-out London runs, a sold-out award-nominated trip to the Melbourne Comedy Festival, and a third London stint in the West End - award winning comedian, relentless innovator, author, and poet, Tim Key brings Single White Slut to the Fringe. Setting up shop for 13 nights at the Pleasance Grand, this is his triumphant homecoming...
Performing his fourth solo show - and his first Edinburgh production since 2011's ground-breaking and award-winning Masterslut - Key (37 now) wades back to Edinburgh, and will recollect simple tales of love, gaze dead-eyed at the ladies, and recite verse.
Single White Slut is a show of enchanting surprise, lyrical prose, and razor-sharp wit. Featuring choreography by Punchdrunk-collaborator Sarah Dowling, the show is set to push Key's passionate and dedicated Fringe-following even further through his looking glass.
Having won the Edinburgh Comedy Award for 2009's The Slutcracker (beating John Bishop, Jon Richardson, and Russell Kane), Tim Key has firmly established himself as one of the most dynamic, exciting, and innovative live comedy performers the Fringe has ever produced.
Both the public and press have run out of superlatives for Key at the Fringe. He is a significant contributor to the festival's continual status as the home of fearless new comedy, and the place for truly extraordinary solo performance work - Single White Slut is a sumptuous example of both.
Away from his solo stage work, Key has had three of his books published, released a vinyl-recording of his poetry (TIM KEY. WITH A STRING QUARTET. ON A BOAT.), and has written and presented two BBC Radio 4 documentaries.
Recently he starred alongside Daniel Kitson in his Manchester Exchange production Tree (the first time Kitson has opened his storytelling work to an onstage collaborator). He continues to perform as part of FREEZE! - his double-act with British Comedy Award winner Tom Basden.
---
Tweets by timkeyperson