Stuart Black
Stuart Black: The Crossroads
Stand-up
10pm (50 mins)
1-10, 12-17 & 19-24 Aug 2014
Free
This is a 2014 show that has now finished.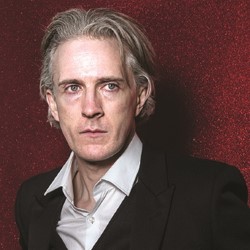 Show details
Stand-up show starring Stuart Black performed on the following days in August 2014...
| Mon | Tue | Wed | Thu | Fri | Sat | Sun |
| --- | --- | --- | --- | --- | --- | --- |
| | 29 | 30 | 31 | 1 | 2 | 3 |
| 4 | 5 | 6 | 7 | 8 | 9 | 10 |
| 11 | 12 | 13 | 14 | 15 | 16 | 17 |
| 18 | 19 | 20 | 21 | 22 | 23 | 24 |
| 25 | 26 | 27 | 28 | 29 | 30 | 31 |
Venue details
The path of life is full of crossroads. How does anyone make the right moral choice these days? This is a fusion of stand-up comedy, poetic language and storytelling. Stylish and hilarious. Shocking and eloquent. 'Dangerously funny' (RipItUp.com.au). 'Black is certainly speaking a very different language to many other Fringe stand-ups' (List). 'Beautifully poetic' (Skinny). 'If Stuart Black isn't careful he's going to become a cult comedian' (Londonisfunny.co.uk). 'Something to say, and a wonderful way of saying it' (Chortle.co.uk).
Share this show
Reviews
Press coverage
Full press release
For those wanting an evening of stand up comedy away from the norm look no further than comic Stuart Black who performs at the Counting House on the Free Fringe for the whole month this August. His show, The Crossroads, is a collection of tales from life filled with debauchery and soul searching that strings together a collection of witty anecdotes an opinions designed to open your eyes and heart whilst all the time exposing you to the extremes life can throw at you.
Stuart Black invites audiences to experience a blend of poetic story telling and shockingly visceral stand-up comedy. Black examines a life spent in a variety of jobs intertwined with drug and alcohol indulgence all the while flagging up the question of where to find a moral compass in life.
Black's comedy comes from his real, but incredible, life in a way that follows in the footsteps of Lenny Bruce, Bill Hicks, and Doug Stanhope (who he has been compared to.) This is the comedy of truths. Truths from a life less ordinary. His show examines these truths in a brutally honest and hence refreshing style.
His father was a former boxer (and alcoholic) and after failing every school exam - twice - Stuart followed in his footsteps training to be a boxer. After leaving home he lived at the YMCA, but eventually gave up his boxing dream after being side-tracked by girls, drink and drugs.
Fast forward to the early 90's and he was living in Brighton penniless and living on the dole in a loft sleeping on chipboard with woodlice and living a nocturnal existence. Although not gay himself he 'lived' in the gay clubs of Brighton & London with his friends that were drug addicts or rent boys (and no he didn't try it but had many offers!) Sadly he spiralled into several years of depression at one point not leaving his house for 6 months or even taking a bath. After getting treatment for depression he got himself together he had various jobs, like putting lids on dog shampoo bottles or selling computers from his car boot. He then moved back to Somerset and in another extraordinary change of life became a Diamond Valuer.
In his late twenties he got bored of the diamond trade and bought a book about computer programming for dummies and self- taught. He became so good he ended up working for Microsoft writing payroll software for clients as diverse as Bank of America, Coca Cola, Saatchi and Saatchi, and Wandsworth Council. This period of success enabled him to buy a house, but by night was drinking heavily and frequently fell asleep at work, as it was a really stressful job. He left the job sold the house and all his belongings and moved to Cape Town South Africa where he found adventure and danger travelling and meeting extraordinary people. Including a genuine psychopath with whom he spent many nights in brothels drinking hard, playing pool for money, and going up stairs with the women. After running out of money came back to the UK and started to take his stand-up seriously...
---
Tweets by stuartvanblack