Lucy Porter
Lucy Porter: Me Time
Stand-up
12:50pm (1 hour)
31 Jul; 1-4 & 6-10 Aug 2014
9 - 10
This is a 2014 show that has now finished.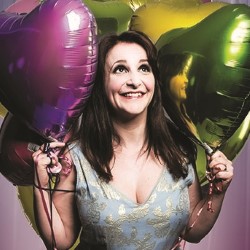 Show details
Stand-up show starring Lucy Porter performed on the following days in August 2014...
| Mon | Tue | Wed | Thu | Fri | Sat | Sun |
| --- | --- | --- | --- | --- | --- | --- |
| | 29 | 30 | 31 | 1 | 2 | 3 |
| 4 | 5 | 6 | 7 | 8 | 9 | 10 |
| 11 | 12 | 13 | 14 | 15 | 16 | 17 |
| 18 | 19 | 20 | 21 | 22 | 23 | 24 |
| 25 | 26 | 27 | 28 | 29 | 30 | 31 |
Venue details
The 10th solo show from this Fringe favourite, familiar from radio (The Unbelievable Truth) and TV (Mock the Week, HIGNFY). Finding modern life a bit difficult? Maybe you were born in the wrong era. In this show Lucy tries to find her rightful place in history. She ponders whether she'd rather be a be-whiskered Victorian explorer, a 1920s Hollywood starlet or Hatshepsut the Egyptian pharaoh. 'Deliciously cutting' (Independent). 'A witty, thoughtful show delivered with winning ease and bucket-loads of charm' (List). 'Impeccably punch-lined anecdotes ... genuinely delightful' (Telegraph). Limited two-week run - book early!
Share this show
Reviews
Press coverage
Full press release
Fringe favourite Lucy Porter presents her 10th Edinburgh fringe solo hour, entitled Me Time. Last year, in the popular and critically acclaimed Northern Soul, Lucy told how she never felt at ease growing up in Croydon, and found her spiritual home in Manchester. This year, Lucy wonders whether she was born in the wrong era, as well as the wrong place. Perhaps she just wasn't made for these times.
In this hour of informative and entertaining feel-good stand-up, Lucy tries to define her rightful place in history. Would she have been happier as a Victorian explorer? A 1920s Hollywood starlet? Hatshepsut the Egyptian pharaoh? Lucy explains her frustrations with the modern world, from the trivial - the bewildering selection of beer glass shapes now available in pubs, to the more serious - the government's catastrophic mishandling of the Royal Mail sell-off.
She then delves into the past, in a quest to find whether 'simpler times' ever really existed. Would it be worth going back to a time before electric light and penicillin to be rid of fake eyelashes and Nespresso? Is dying in childbirth preferable to living in a world we have to share with Kardashians? The audience will of course be invited to suggest their own preferred periods in history. Will we find ourselves in a roomful of Vikings, Regency fops, or Aztec human sacrificers? Or would they rather pitch forward into the golden future of a post-independence Scotland? (Ooh cheeky!)
Lucy has been touring her Northern Soul show. She has performed over 30 dates all over the country with great success. She has fallen in love with some new venues like the Rondo in Bath and Barton upon Humber's Ropewalk, as well as returning to old favourites like Bristol's Tobacco Factory and the Hull Truck. This is Lucy's third fringe show since her two-year maternity leave. It's the 22nd anniversary of her first Edinburgh festival - when she served as a judge on the Perrier Awards panel.
This year has seen Lucy return to radio and television, with appearances on The Unbelievable Truth and The News Quiz amongst others for Radio 4. She will also shortly be seen on Channel 4's 15 to 1 Celebrity Special. We can't give too much away, but the final can justly be described as nail-biting. Lucy also achieved a lifelong ambition this year, by appearing on Newsnight. Jeremy Paxman went very easy on her, luckily. Over the last few years, with her involvement in the Bristol Slapstick Festival, Lucy has increasingly shared her private passion for silent comedy. You may have caught her Radio 3 Landmark discussion about Chaplin's City Lights. She is currently developing a sitcom with Hat Trick productions (working title The Entrepreneurs) and still attempting to finish her first novel.
Lucy's afternoon comedy club for parents and infants - Screaming with Laughter - goes from strength to strength. The club has recently expanded to five venues in London (Balham, Chiswick, Nunhead, Crouch End and Putney), all hosting monthly shows featuring the cream of the comedy circuit. She has been approached by a number of arts centres about taking it on the road if she has time!
Lucy has also written a play that has its premiere at this year's festival. Based on the true story of three Edinburgh girls who formed 'The Fair Intellectual Club' in 1717, it's tale of teenage love, friendship and betrayal set at the dawn of the Scottish Enlightenment. Lucy is currently casting the three performers for this show (feeling that playing a teenager herself might be a slight stretch), which will be performed at the Assembly Rooms every day at 11 a.m. This is Lucy's first foray into theatre since appearing with Christian Slater in One Flew Over the Cuckoo's Nest at the festival in 2004.
---
Tweets by loonabimberton