Lucie Pohl
Hi, Hitler
Comedy
4:15pm (1 hour)
30 & 31 Jul; 1-10 & 12-25 Aug 2014
7 - 9
This is a 2014 show that has now finished.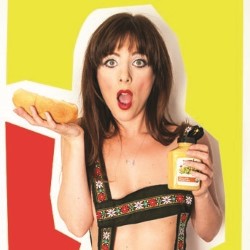 Show details
Comedy starring Lucie Pohl performed on the following days in August 2014...
| Mon | Tue | Wed | Thu | Fri | Sat | Sun |
| --- | --- | --- | --- | --- | --- | --- |
| | 29 | 30 | 31 | 1 | 2 | 3 |
| 4 | 5 | 6 | 7 | 8 | 9 | 10 |
| 11 | 12 | 13 | 14 | 15 | 16 | 17 |
| 18 | 19 | 20 | 21 | 22 | 23 | 24 |
| 25 | 26 | 27 | 28 | 29 | 30 | 31 |
Venue details
Hi, Hitler. This heil-arious one woman blitzcomedy comes to Scotland fresh off the heels of a sold out NY run. Meet a German-Jew, who grows up in a wild family of artists, is fascinated by der Fuhrer from age four and uprooted from Hamburg to NYC at eight. As Bertolt Brecht's real-life niece, Lucie yearns for normalcy, but being different seems to run in her bloodline and escaping her inherited high-drama-destiny might be impossible. A pinch of Hitler, a cup of hip hop and a dash of Hasselhoff. 'Hilarious!' (NewYorkTheatreGuide.com).
Share this show
Reviews
Press coverage
Full press release
Following a sold out run in New York, US actress, comedian & writer Lucie Pohl makes her Edinburgh Festival debut with her show Hi, Hitler at the Gilded Balloon for the month of August. Lucie's heil-arious autobiographical solo comedy unravels the life of a German-Jewish immigrant girl, fascinated by Der Fuhrer at age 4.
As Bertolt Brecht's real-life niece, little Lucie day-dreams of stay at home moms and row homes, but being different seems to run in her bloodline and escaping her inherited high-drama-destiny might just be impossible. She comes from a family dynasty of performers and artists - her father is the acclaimed German playwright and actor Klaus Pohl and her mother the Romanian singer Sanda Weigl. Growing up in Germany all little Lucie wants is to be like other kids. Things get really crazy when her wild family of artists, the self-proclaimed "Pohl Circus", ships off from Hamburg to New York City. Learning English, becoming her parent's translator, and making a new identity for herself are just some of the challenges Lucie has to overcome, but no matter how hard she tries there is one thing she just can't shake: the alien in her. A pinch of Hitler, a dose of HipHop and a dash of Hasselhoff.
NY Theatre Guide says, "as a performer Lucie is unflappable", "there isn't a second where Lucie doesn't engage the audience" and calls her solo show debut Hi, Hitler "hilarious". Goldstar.com calls her performances "unique and full of quirky insights into the human experience". Lucie received her MFA in Acting from the University of the Arts in Berlin. US film credits include David Chase's Not Fade Away (Paramount Vantage), Andy Fierberg's El Cielo Es Azul (Vox3 Films), Rosa von Praunheim's New York Memories, Andy Schaap's Must Love Death (Winner NY Horror Film Fest), as well as over 20 film & tv productions in Europe. US Theatre credits: Cry Me A Liver (Solo Show, The People's Improv Theater), Three Graces (Immigrant's Theater Project / 3-LD), Alma Mahler: Widow of the 4 Arts (The Los Angeles Theatre), Red Flowers in the Snow (Roy Arias), Vocal Migrations (LaMaMa ETC.).
Lucie is due to shoot a film in Istanbul next month playing the lead role in Magi directed by Hasan Karacadag and also starring Michael Madsen (Reservoir Dogs, Kill Bill), Stephen Baldwin (The Usual Suspects) and Brianne Davis (Jarhead, True Blood).
---
Tweets by LuciePohlComedy