The Barry Awards (UK) - Why set up a new award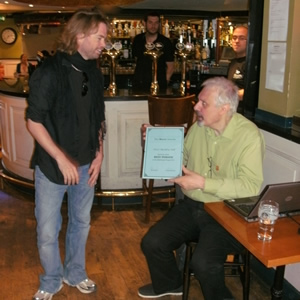 I just got back from another run of performing at the Edinburgh Fringe, and it was possibly the best one yet. And that's down to one main reason - awards.
I didn't receive any awards myself; the two shows I did this year were very much operating below the radar, but what I did get to do was hand out awards. And, now I think about it, handing out awards is in many ways better than performing. It's more selfless and so much more rewarding. Plus there's no risk of a bad reception; everyone loves receiving an award!
This year Barry Ferns and myself ran the inaugural Comedians' Choice Awards, otherwise known as The Barry Awards (UK). There are already two Barry awards in other countries, so we thought we'd get in on that name.
The difference with our awards is that they are entirely voted on by comedians performing at the Fringe. Any comedian performing at the Fringe gets one vote. No panel of judges, no selective short listing, nothing but comedians voting on whom they think deserves recognition.
Why set up yet another award? Well, there are lots of awards for theatre productions at the Fringe, but there are relatively few for comedy. And there isn't one where comedians vote for comedians.
Many decry awards, saying they're all pointless. There may be something to that argument. However anything decided on by credible means will be noticed (we were surprised how much attention our awards got in this, their first year). And, more importantly, everyone loves receiving an award.
I can't convey how nice it was to go round on the last day of the Fringe, meet with a series of tired depressed comedians, and then surprise them with an award. It was lovely see how much it meant to each comedian who ended up in the top five in each category.
---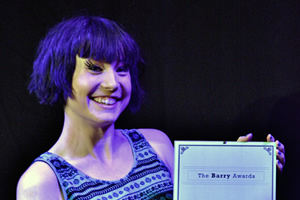 Our first category, Best Show, was won by Bec Hill in... Ellipsis. Bec Hill is a Fringe favourite who is widely loved but had never won an award; in fact her show was about that. When we told her she'd won she said: "My whole show is about how I've never won an award - and now you have all screwed it!" (She also added after that she was just joking and she was in fact very grateful to everyone who voted).
The other shows in the top five were: Aunty Donna, Funz and Gamez, Joseph Morpurgo: Odessa and Knightmare Live. All much talked about shows at the Fringe which deservedly got recognition from other comics.
---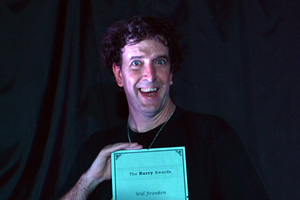 Our next category, Best Performer, was won by Will Franken. We came to him just after he'd finished his final show of the run, and I've got to say it was the highlight of my day seeing him go from a worn out husk to an excited sprite. "I'm touched. This award represents the true spirit of the fringe - the rock and roll aspect of it - from the performers. It means a lot. Thank you."
The other performers with the top five votes were: Spencer Jones, Sean McLoughlin, Trygve Wakenshaw (of Kraken & Squidboy) and finally John Kearns (I think he was the most gutted about missing out on this award).
---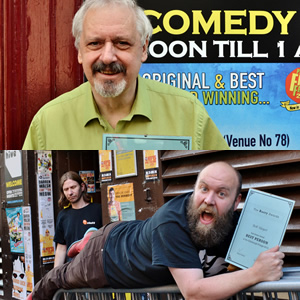 Our final category was a bit different, Best Person. It was open to anyone in any way connected to the comedy industry. Perhaps unsurprisingly most of the votes were for promoters running free venues (because performers are often thankful to these people for letting them put on shows at the Fringe at a minimal cost). Excitingly this category was tied, with Peter Buckley Hill (The Free Fringe) and Bob Slayer (Heroes of the Fringe) receiving the exact same number of votes. Incidentally the two of them are also comedians who have each built up a Fringe following over the years.
Peter and Bob were similarly philosophical about the award. Peter saying, "Anybody who thinks I'm a good person does not know me - thank you for all these mistaken people!" While Bob said "I'm the best person at the Fringe! It's all lies. Lovely lies. Thank you everyone who voted."
The other people in the top 5 were: Alex Petty (Laughing Horse Free Festival), Damian Clark (top bloke) and Renata Brightman (Freestival). Renata has the additional honour of being the only person to get in a top 5 without actually attending the Fringe (although I hear she helped many people remotely).
---
So there we are, the first Barry Awards (UK). There may be other awards that come with prize money, or lots of publicity. But I'm happy we've set up this because it gives a bit of recognition to a few extra people. And I trust comedians to vote for the right people. Plus I enjoy seeing how happy the winners are when they find out, even if it's just fleeting.