Pre-Gig Notes: A Photo Gallery
Here's an intimate insight into the show preparations of comedians performing at this year's festival. They reveal their pre-show routines, and we take a look at their set lists and notes...
Abigoliah Schamaun
Before the show I usually have a coffee. And then I stare at my notebook. I've counted every show I've done since I've started. As of today I'm up to 1,425 shows. Then I get nervous. Then I pace. My name is announced. I go on stage screaming the word YAAAAAaaaay! That's pretty much it.
'Abigoliah Schamaun: It's Pronounced Abigoliah Schamaun'. 6:45pm, Gilded Balloon. Listing
Alfie Brown
Before my show, I rub the space in between my index finger and my thumb. This releases adrenalin apparently. I think about the first thing I might say, I try to have this be different at most gigs. I'm usually farting, though I'm not a good enough scientist to tell you why.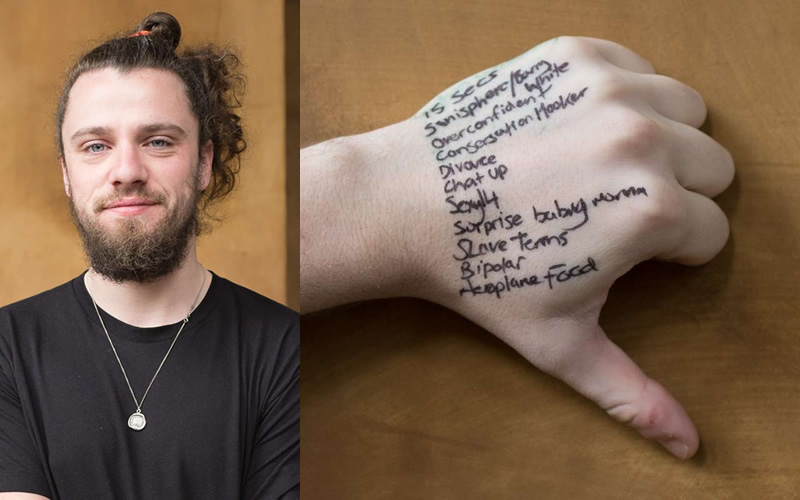 'Alfie Brown: Divorced from Reality (and My Wife)'. 11pm, Pleasance Courtyard. Listing
Aunty Donna
Zachary (left): A cup of tea and a bottle of water and casual conversation with whoever is about. Broden (middle): x2 cups of water and 10 minutes of Rubberbandits. Mark (right): Have fun flyering and then do a shit and a wee.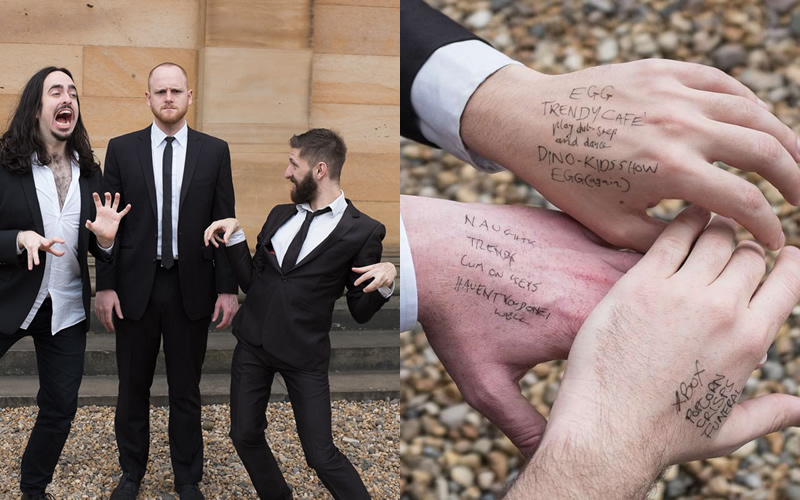 'Aunty Donna. 10pm, Gilded Balloon. Listing
Jim Campbell
What I do before my show depends on if I'm alone or not. If I am, I dance to whatever song is playing from my pre-show playlist. I do this badly. I am no dancer but it helps get the adrenaline flowing. If anyone else is there I just fidget.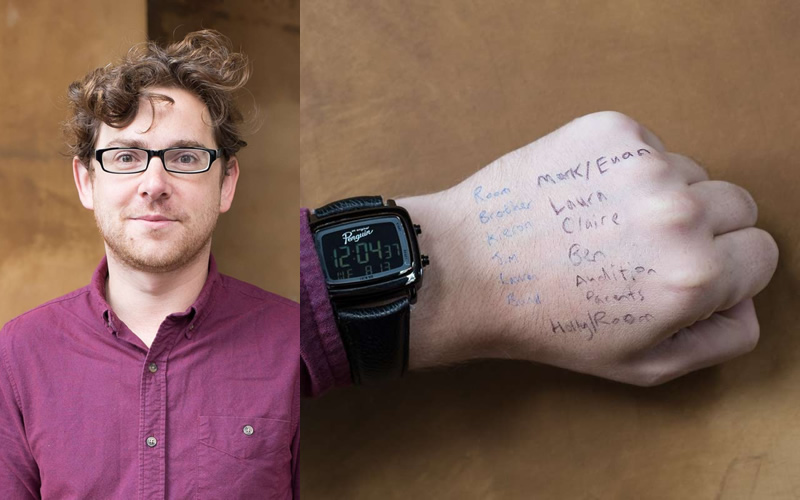 'Jim Campbell's Personal Space'. 2:50pm, Udderbelly. Listing
Joey Page
Before I go on I like to just look out at the audience, I'm normally very relaxed. I only have one superstition, or what have you - it's more of a pet hate - I hate going on with anything in my pockets, so I'm normally stashing coins, lint and receipts backstage, like a squirrel.
'Joey Page: This is Not a Circus'. 10:45pm, Udderbelly. Listing
John Robertson
I stand up, I walk around, do some half-hearted vocal warm-ups, various profanities, vows to heaven, knee-bends, teeth-grinding, neck-cracking, finger-popping, audience applauds, I roar back and away we go.
'John Robertson: A Nifty History of Evil'. 3:30pm, The Stand. Listing
Lizzie Bates
My pre-show ritual involves drinking something with high sugar content and eating a battered cereal bar which I've fished out from the bottom of my bag. I'll have a little panic about my lines (despite having successfully performed the show every day for what seems like an eternity).
'Lizzie Bates: Reprobates'. 3pm, Pleasance Courtyard. Listing
Lou Sanders
Before the show I pace about, lay out props, empty my bladder and tell myself just how cool I am. Which is quite a lot (quite a lot cool).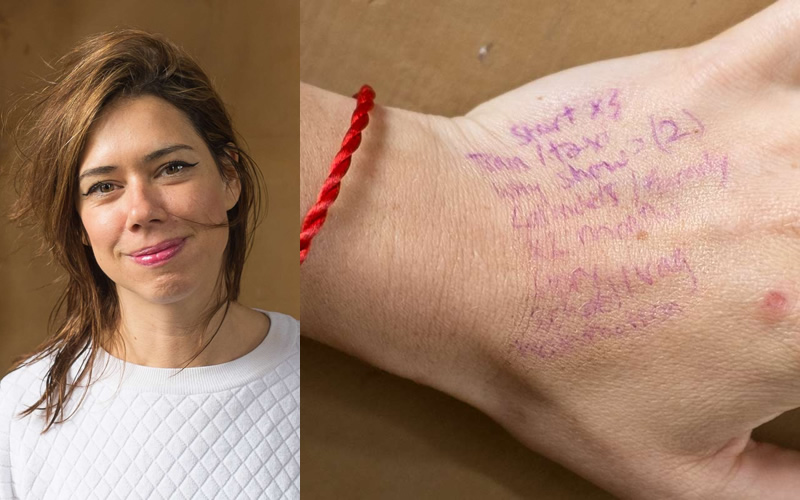 'Lou Sanders in Another Great Show Again'. 10:30pm, City Café. Listing
Luke Toulson
I try not to have a pre-show routine, that way I'm not hampered by something not being how I would want it. I always record every gig, but I don't listen to them all back. Other than that, I just start my watch and try to imagine the gig going well.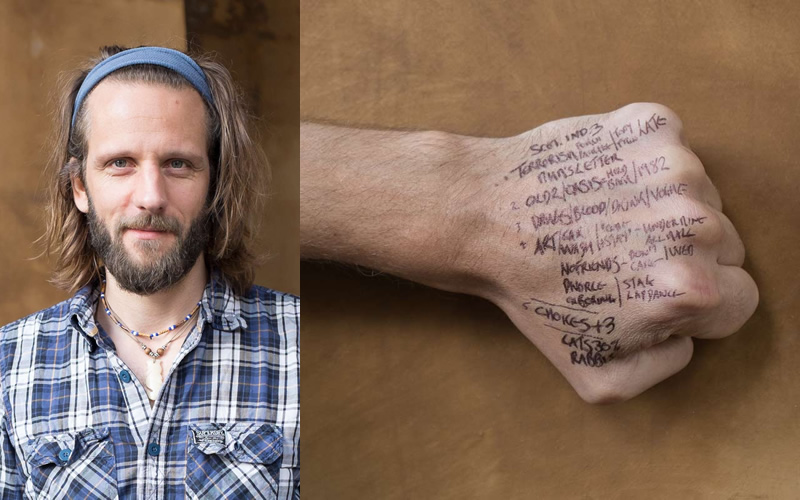 'Luke Toulson: Laid-Back Grouch'. 7:35pm, Cabaret Voltaire. Listing
Nick Hall
My pre-show routine usually involves putting out the chairs and getting the room set up. To stop this becoming a menial task I play Fleetwood Mac loudly and invite the audience to watch this display. Then it's time to turn on the desk lamps (former children's libraries do not have stage lighting), close the door and shout my name from the back of the room - let's get this show started!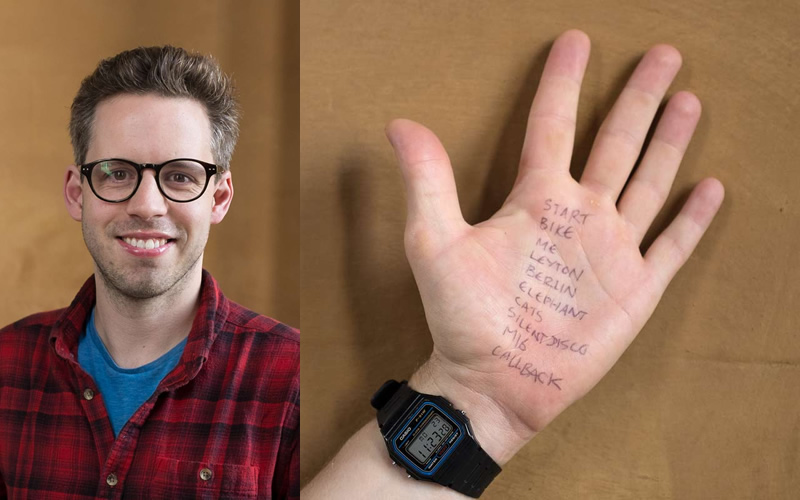 'Nick Hall: Helmet'. 3:55pm, George Next Door. Listing[/i]
Rhys Mathewson
I don't like comedians writing setlists on their hands. Our job is not that strenuous. Remember your bloody jokes. That being said, I do like to remind myself that I'm the funniest person in the room. It helps in getting the audience to agree with me.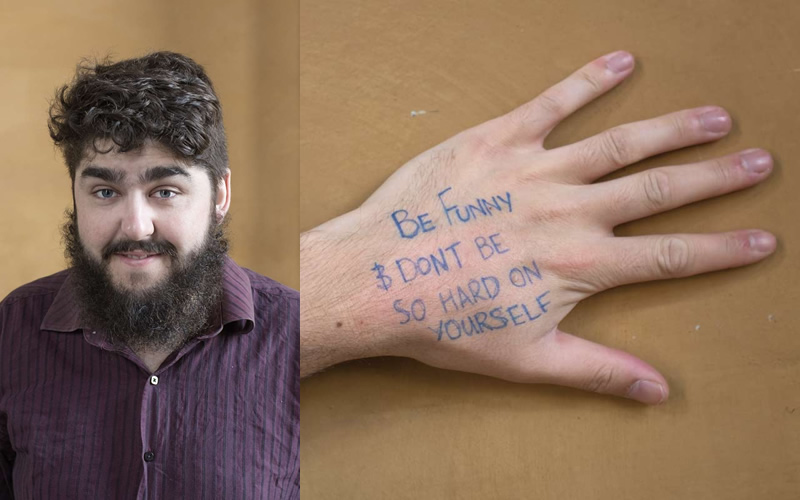 'Rhys Mathewson - Hombre Lobo'. 8:30pm, Pleasance Courtyard. Listing
Ria Lina
Notes explained: I've always hated blemishes, and writing on the hand is like a blemish that would tie me into the same set the next night, depending on how many times I've washed my hands in between. So I use scraps of paper, napkins, coasters, which I then commit to memory before starting. Sometimes I give myself a choice of direction (songs are circled) that is determined by the savviness of the audience. So sometimes it isn't so much a set-list as a set-flowchart.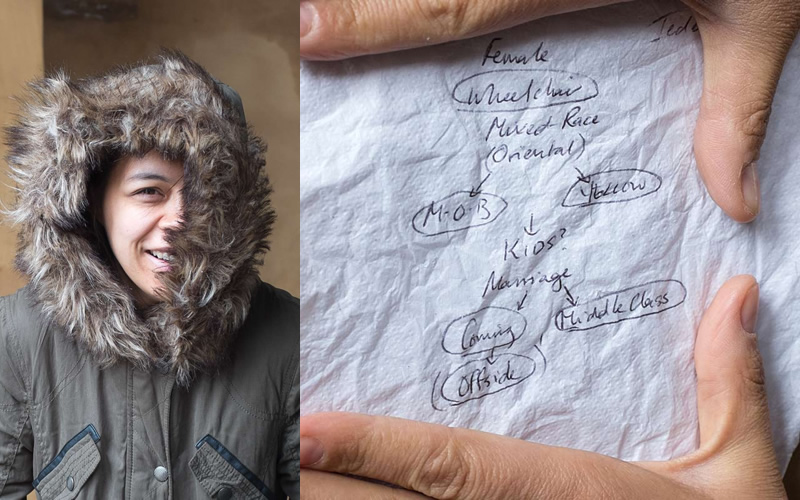 'Ria Lina: School of Riason'. 3pm, Gilded Balloon. Listing
Simon Feilder
Before my Fringe show I like to lay out all the things I need (props*) neatly so I can keep track of everything and feed my inner Monica. I'll also play some loud rock music in the room in order to further alienate the venue staff. I am fun. (*crutches)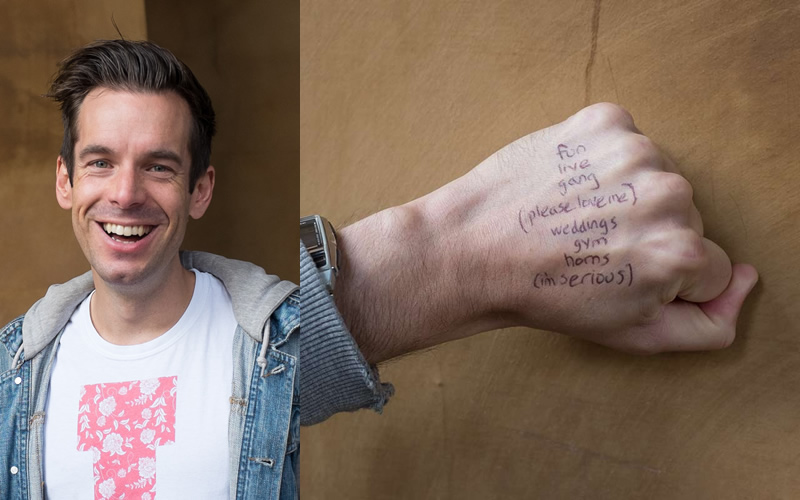 'Simon Feilder: All The Things I'm Not'. 8:30pm, Pleasance Courtyard. Listing
---
These brilliant pictures are copyright @DavidBennett of photographworks.co.uk