Amused Moose Comedy Awards 2014 finalists announced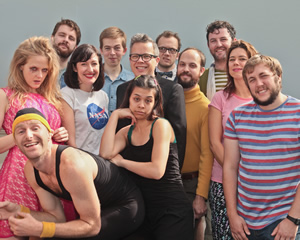 The ten finalists for the Amused Moose Laughter Awards 2014 have been announced. The awards aim to discover the best shows at the Edinburgh Fringe Festival.
The shows involved in the final are:
Celia Pacquola: Let Me Know How It All Works Out
Loretta Maine: Strong Independent Woman
Lou Sanders in Another Great Show Again
Pierre Novellie is Mighty Peter
Trygve Wakenshaw's Kraken
Entry to the Amused Moose Laughter Award, the 'senior strand' of the Amused Moose Comedy Awards competitions, is open to all shows listed in the comedy section of the 2014 Edinburgh Fringe programme for at least 15 dates, by performers who do not have a current DVD deal or option.
The Top Ten have been decided by an industry panel (including critics, promoters and producers) who have watched all entries online before viewing the long list live in Edinburgh.
The finalists will now perform ten minute sections from their show in Amused Moose Comedy's Laughter Awards Final, which is due to take place this Sunday 27th August at The Space @Symposium Hall from 1:15pm. The event will be hosted by Mark Dolan with a guest performance from 2013 finalists Jonny & the Baptists.
The winner will take home a £5000 cash prize and a shiny Moose trophy.
Here is a picture of all the finalists: