Dan Schreiber
Dan Schreiber: C*ckblocked from Outer Space
Stand-up
5:40pm (1 hour)
30 & 31 Jul; 1-8 & 10-24 Aug 2014
9 - 11
This is a 2014 show that has now finished.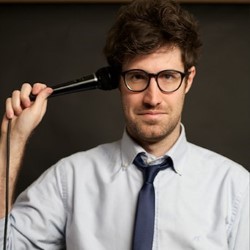 Show details
Stand-up show starring Dan Schreiber performed on the following days in August 2014...
| Mon | Tue | Wed | Thu | Fri | Sat | Sun |
| --- | --- | --- | --- | --- | --- | --- |
| | 29 | 30 | 31 | 1 | 2 | 3 |
| 4 | 5 | 6 | 7 | 8 | 9 | 10 |
| 11 | 12 | 13 | 14 | 15 | 16 | 17 |
| 18 | 19 | 20 | 21 | 22 | 23 | 24 |
| 25 | 26 | 27 | 28 | 29 | 30 | 31 |
Venue details
The co-creator of BBC Radio 4's Museum of Curiosity, QI Elf and host of the QI podcast brings his debut hour to the Fringe. 'An entertaining mine of fascinating facts and painfully funny tales... quality comedy' (Scotsman). 'Schreiber has funny bones and an engagingly upbeat delivery' (Chortle.co.uk).
Share this show
Reviews
Press coverage
Full press release
The co-creator of BBC Radio 4's long standing Museum of Curiosity and host of the top rated podcast No Such Thing As A Fish, is set to venture to the Edinburgh Fringe with his debut hour C*ckblocked From Outer Space.
Dan unleashes his inner dork this summer, with this hilarious show of personal anecdotes and fascinating facts garnered during his time as a QI elf (fact finder for the BBC2 hit show) and from his times as producer of 7 series of The Museum of Curiosity. Packed full of encounters with extraordinary people including astronauts, yeti hunters and pubic lice hunters plus filled with the brilliant imaginings on conspiracy theories to authentic theories, such as why one would lick a monkey's ass, the show is punctuated with Dan's dating tales in this captivating world. C*ckblocked From Outer Space provides an entertaining insight to the rich world of geek.
In addition to being co-creator of BBC Radio 4's Museum of Curiosity and one of the QI Elves, Dan Schreiber has recently appeared on BBC Radio 4's Fresh From the Fringe and will be performing on Alex Zane's Funny Rotten Scoundrels: Live from the Century Club for the exciting new channel London Live. However, most impressively anticipated in Dan's calendar this summer is his first authored factual entertainment documentary for Channel 4. The territory of which is being kept tightly under wraps by the channel, although his work to date points us in the right direction of this engaging land of all things geek. Dan's one hour special is tipped to breathe new life into this world of straight presenting!
Dan has also executive produced a short Christmas movie entitled A Kitten for Hitler with cult director Ken Russell, and Frank Skinner's new comedy history panel show on BBC Radio 4. He was a joke collector for Jimmy Carr's book The Naked Jape, produced a comedy animation project with music by Paul McCartney, creating an RDF/Channel Dave pilot starring astronaut Buzz Aldrin, executive producing Rhys Darby's standup DVD Imagine That!, of which Dan produced the extras package and also had a cameo in the show. Dan is currently working on a TV sitcom pilot with Rhys.
Dan Shreiber is the unsuspecting star of this year's festival.
---
Tweets by Schreiberland