Anna Morris
Anna Morris: Would Like to Thank
Sketch show
4:05pm (1 hour)
30 & 31 Jul; 1-11 & 13-25 Aug 2014
9 - 11
This is a 2014 show that has now finished.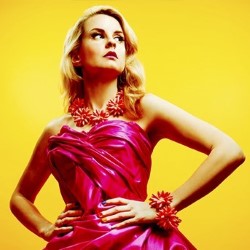 Show details
Sketch show starring Anna Morris performed on the following days in August 2014...
| Mon | Tue | Wed | Thu | Fri | Sat | Sun |
| --- | --- | --- | --- | --- | --- | --- |
| | 29 | 30 | 31 | 1 | 2 | 3 |
| 4 | 5 | 6 | 7 | 8 | 9 | 10 |
| 11 | 12 | 13 | 14 | 15 | 16 | 17 |
| 18 | 19 | 20 | 21 | 22 | 23 | 24 |
| 25 | 26 | 27 | 28 | 29 | 30 | 31 |
Venue details
The character comic, and star of BBC1's Outnumbered, returns as four comedy creations battle for your vote. Four women. One award. Who'll be crowned Woman of the Year? You decide. 'Spot-on, darkly comic characters... Morris is comedy gold' (Huffington Post). 'An exceptional comedy performer' **** (Skinny). 'Great comedy... beautifully crafted' (Independent).
Share this show
Reviews
Press coverage
Full press release
After a year away, character comic extraordinaire Anna Morris returns to the Edinburgh Festival Fringe, Underbelly in 2014 with her brand new show Would Like To Thank. Filled with confession, dark twists, competition, tension, jeopardy, songs and fearless interaction, at an awards ceremony that is falling part, this is the one show you cannot miss.
From the identifiable to the weird and neurotic, watch as Anna, or one of her four contestants, battles it out to become Woman of the Year 2014.
The audience controls the vote and the end of the show by deciding which fantastic female should win the coveted prize.
The contestants include a Mumtreprenuer who thinks you can have it all, a domestic goodness with a dark secret, a single women's activist from The Bitchelors campaign group, and an inappropriately glamorous war correspondent: who will YOU vote for?
It's not as easy as it seems though, as the audience will have to work its way through each morally ambiguous character, and deal with last year's winner - viral internet sensation (with over 90,000 hits on YouTube) Georgina the Bride (dubbed 'Britain's Worst Bride by the Huffington Post), who has been let loose with a microphone and the job of the presenter. If you are expecting Ellen DeGeneres at the Oscars then think again. This will be funnier, have more awkward and questionable sponsorship placement deals (by the likes of Babebrini sparkling wine, anti-ageing products and hair removal cream) and three losers who probably won't be able to keep their cool like DiCaprio.
Anna Morris is a multi-talented comedian, writer and actress. She has written for The Paul O'Grady Show, Oops TV with Justin Lee Collins, One Minute Wonders with Dave Schneider, Man Stroke Woman and Newsrevue as well as writing her own shows including past Fringe hits Daylords and Daylords Return with Beth Vyse, and her debut solo show Dolly Mixture, which had sell-out runs in London, Brighton and Glasgow. Her TV credits include starring as the Eastern European receptionist Timaeia in BBC's Outnumbered. Anna will also be starring in a secret ITV 2 comedy entertainment show in Autumn, after it was commissioned from the pilot made last year. She has also appeared in the Jermyn Street run of the hit comedy play Death Ship 666.
---
Tweets by annamorriscomic