Racing Minds
Aaaand Now For Something Completely Improvised
Improv
11:45am (1 hour)
30 & 31 Jul; 1-25 Aug 2014
8 - 9
This is a 2014 show that has now finished.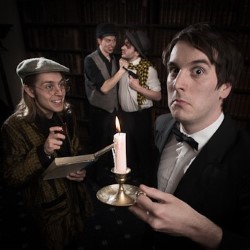 | Mon | Tue | Wed | Thu | Fri | Sat | Sun |
| --- | --- | --- | --- | --- | --- | --- |
| | 29 | 30 | 31 | 1 | 2 | 3 |
| 4 | 5 | 6 | 7 | 8 | 9 | 10 |
| 11 | 12 | 13 | 14 | 15 | 16 | 17 |
| 18 | 19 | 20 | 21 | 22 | 23 | 24 |
| 25 | 26 | 27 | 28 | 29 | 30 | 31 |
Venue details
Racing Minds are back after a sell-out 2013 Fringe! A doddery grandfather can't quite remember his ripping yarn but with your help a mystery stuffed with hilarious characters, whip-smart wit and breathtaking twists will take hasty shape before your very eyes. Anything could happen, but excitement is guaranteed in this improvised comic adventure based entirely on audience suggestions! 'Never in my life have I witnessed a funnier live comedy show' ***** (ThreeWeeks). 'Witty, clever and entertaining throughout. Racing Minds are stars in the making' ***** (FestivalJournal.co.uk). 'As pacy as it is clever' **** (BroadwayBaby.com).
Share this show
Reviews
Press coverage
Full press release
Be prepared to be blown away this Fringe in an awe-inspiring improvisational explosion as critically acclaimed, total Fringe sell-out (2011-2013) long-form improv quartet Racing Minds return to the Pleasance Courtyard this August.
Formed in 2010 by members of the Oxford Imps, Daniel Roberts, Tom Skelton, Chris Turner and Dougie Walker rely completely on the audience to help create their hour of hilarity - and deliver every time. With only four suggestions at the beginning of the show (main character's name, their hidden secret, the starting location and title of the story), each show will be totally unguided, entirely unpredictable and undoubtedly one of the finest and most unique Fringe performances you will catch this year. No script, no plot, and no two shows will ever be the same!
Previously unrepresented at the Fringe, Racing Minds immediately won their fan-base at the Free Fringe in 2011 and packed out their venue every single day. A return in 2012 promised the same, and the Pleasance soon snapped them up the following year where they went on to sell out their entire run in 2013. Their completely improvised fifties-style comic radio play podcast The Wireless Podcast also proved a great success with over half a million followers on SoundCloud, promising the comedy industry stars in the making.
Daniel Roberts has graced the Fringe in experimental improv hit Adventure Incorporated, starred in sell-out sketch comedy with Correctness Gone Mad and racked up improv experience with several years in The Oxford Imps, of whom he is a former assistant director. He has directed and edited various comedy films and sketches, reached the semi-finals of several respected stand-up competitions, performed murder mysteries with Little Chico productions and is part of the Impromptu Shakespeare Company, which debuted at the Fringe in 2013.
Tom Skelton is the former director of The Oxford Imps. He has appeared with The Story Pirates and Adventure Incorporated, written, directed and starred in the five-star comedy Freshwoman and was praised for his performances in the sell-out improvised radio play Are You Sitting Comfortably? and James Laurence's sketch show The Life and Times of Sigmund Freud.
Chris Turner is an award winning stand-up comedian, headlining The Comedy Factory on Dutch TV to 1.1million people. Having spent 4 years performing with the Oxford Imps, Chris appeared in the Pleasance Comedy Reserve at the 2012 Edinburgh Festival and scooped 5th Place in Dave's Funniest Joke of the Fringe award. He has also performed live on BBC Radio 2.
Dougie Walker is an ex-Director of the Oxford Imps and Brighton improv troupe Off The Cuff and was a writer/performer in the 2008 Fringe show The Duck Who Died for No Reason with his company Frankly, Robert. A regular guest in 2010, Dougie joined Racing Minds in 2011, bringing his wide-ranging improv experience and magnificent beard to the show.
---
Credits
Tweets by Racing_Minds