God Particle
The God Particle
Play
12pm (noon) (70 mins)
1-12 & 14-25 Aug 2013
6 - 8
This is a 2013 show that has now finished.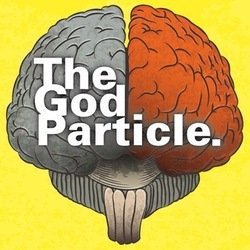 | Mon | Tue | Wed | Thu | Fri | Sat | Sun |
| --- | --- | --- | --- | --- | --- | --- |
| | 30 | 31 | 1 | 2 | 3 | 4 |
| 5 | 6 | 7 | 8 | 9 | 10 | 11 |
| 12 | 13 | 14 | 15 | 16 | 17 | 18 |
| 19 | 20 | 21 | 22 | 23 | 24 | 25 |
| 26 | 27 | 28 | 29 | 30 | 31 | |
Venue details
A quantum physicist and a vicar walk into a bar ... joining forces to solve a perplexing mystery, they discover the real meaning of faith, knowledge, love and the importance of keeping an open mind. Brand new romantic comedy sci-fi from James Cary, award-winning co-writer of BBC1's Miranda, BBC3's Bluestone 42 and Radio 4's Another Case of Milton Jones. Deep, smart and very funny, in a Hitchhiker's meets Rev kind of way.
Share this show
Reviews
Press coverage
Full press release
A scientist and a vicar walk into a bar...
Dr Bex Kenworthy's evening is not going well. Not only has she been stood up - and by a lab technician at that - but her mother keeps phoning her mobile for updates on her love life and her intended 'plus one' for her impossibly perfect younger sister's wedding. Things seem to be looking up when a handsome stranger, Dr Gilbert Romans, enters the bar - until Bex realises he is the new vicar. A die-hard sceptical scientist and a heavenly-minded vicar seem set to create entirely the wrong kind of chemical reaction... or do they? After all, strange things are going on in the village of Threepiggs. How did the previous vicar mysteriously vanish without trace?
Why do TV licence vans keep exploding near the graveyard? Who is the unusual saint depicted in the stained glass window? Why is the local Institute conducting top secret experiments with mercury? And where does a talking donkey fit into the puzzle? Bex and Gilbert will need to work together to answer all these questions, particularly once they find themselves handcuffed to each other. Will faith or science prevail - or both? Together they stumble towards the real meaning of faith, knowledge, love and the importance of keeping an open mind.
The God Particle is an intriguing, smart and very funny tour de force from a popular writer for TV and radio, which will make you think and ask questions as well as laughing out loud. Don't miss it! Boy meets girl... theology meets quantum physics... Rev meets Doctor Who...
About the Writer: James Cary is the award-winning creator of BBC3's Bluestone 42, and co-writer of BBC1's Miranda and Radio 4's Another Case of Milton Jones.
---
Credits
Tweets by godparticleplay
Visitor reviews

Jon G
Saw this on Thursday the 1st of August, up close in front row seats, no less. The whole performance, by both actors, was faultless. We were gripped from start to finish. It's no mean feat to keep an audience fully engaged for a whole hour via a two-hander. The script was a masterpiece, successfully weaving drama and humour into an intricate plot without ever once being confusing. Intriguing? Yes! But never confusing. Both characters were likeable, had depth and were easy to relate to. Ruben Crow and Abby Guinness were entirely believable, portraying characters that make you want to both help and slap them every now and again, in equal measure. In short, I'm thrilled that we saw this play, although I will never again look at a stained glass window in the same way.