Set List
Set List: Stand-Up Without a Net
Improv / Stand-up
11pm (1 hour)
1-10, 13-17 & 20-24 Aug 2013
10.50 - 14
This is a 2013 show that has now finished.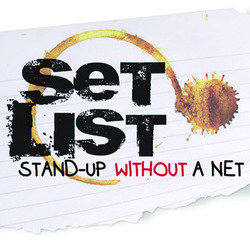 Show details
Improv / stand-up performed on the following days in August 2013...
| Mon | Tue | Wed | Thu | Fri | Sat | Sun |
| --- | --- | --- | --- | --- | --- | --- |
| | 30 | 31 | 1 | 2 | 3 | 4 |
| 5 | 6 | 7 | 8 | 9 | 10 | 11 |
| 12 | 13 | 14 | 15 | 16 | 17 | 18 |
| 19 | 20 | 21 | 22 | 23 | 24 | 25 |
| 26 | 27 | 28 | 29 | 30 | 31 | |
Venue details
Now online at Nerdist.com and an upcoming Sky Atlantic TV series. A set list contains written words that comedians use to remind them of which jokes they will do. But what if someone else wrote them an outrageous set list and they had to create comedy on the spot? Top comedians are given original and deranged topics with literally zero seconds to prepare, creating spontaneous, on the spot hilarity. See the mental wheels turning in this playground for the comedy mind. ***** 'The must-see show of the festival' (Scotsman).
Share this show
Reviews
Full press release
The edge-of-your-seat improvised stand-up show Set List returns to The Edinburgh Festival Fringe, from 31st July - 25th August following dates around the globe including in London, at Montreal's Just for Laughs Festival, Melbourne Comedy Festival, Nottingham plus a soon to air series on Sky Atlantic, ABC2 Australia and Chris Hardwick's Nerdist YouTube Channel.
Set List brings a unique take on the mixed night show, with top comics facing the challenges of navigating through never before explored comedic territory. Fearless comedians who regularly perform at the Los Angeles born show produced by Paul Provenza, Troy Conrad, and Barbara Romen include Rich Hall, Eddie Izzard, Tim Minchin, Phill Jupitus, Jeff Garlin, Dara O'Briain, Greg Proops, Drew Carey, Robin Williams, Roseanne Barr, Jimmy Carr, Wil Anderson, Richard Herring, Robin Ince, John Bishop, Frank Skinner, Dave Gorman, Axis of Awesome, Pajama Men, Judah Friedlander, plus many more.
As they step onto the stage, comedy pros are given an original, never before seen "set list" of wildly unpredictable and outrageous key phrases from which they must create a spontaneous, original stand-up set on the spot and under pressure before a live audience. Each set list item is projected onscreen so the audience can follow along and watch the wheels turning in the minds of comedians as they craft their own particular style of comedy right from the moment of creation.
A favourite show among comics and audiences alike, Set List has been a hit with the late-night crowd at the Edinburgh Festival Fringe for the past 2 years. "It's comedy without a net, and the comics' sets are 100% different each time they do the show," said Provenza. "It's not about comics competing against one another. It's more like golf. The comic is competing against the course. In this case, the course is a list of material that virtually no comic has ever talked about."
Troy Conrad, who created the show in 2010 based on his onstage act as a comedian, describes the show as "A fantastic opportunity to be in the moment like never before, and bring out the true potential and voice of each comic."
Added producer Barbara Romen: "Audiences see their favourite comics' as they've never seen them before. You can watch the wheels turning as they handle the insane pressure as only the quickest comedy brain can."
Set List is a playground for the comedy mind.
---
Tweets by SETLISTSHOW