Red Bastard
Red Bastard
Comedy
4:40pm (70 mins)
1-6, 8-13 & 15-26 Aug 2013
11 - 13
This is a 2013 show that has now finished.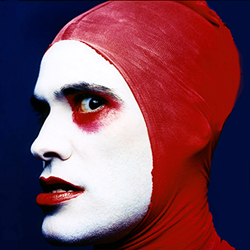 Show details
Comedy starring Eric Davis performed on the following days in August 2013...
| Mon | Tue | Wed | Thu | Fri | Sat | Sun |
| --- | --- | --- | --- | --- | --- | --- |
| | 30 | 31 | 1 | 2 | 3 | 4 |
| 5 | 6 | 7 | 8 | 9 | 10 | 11 |
| 12 | 13 | 14 | 15 | 16 | 17 | 18 |
| 19 | 20 | 21 | 22 | 23 | 24 | 25 |
| 26 | 27 | 28 | 29 | 30 | 31 | |
Venue details
Could this five-star, dangerous, seductive comedy monster literally change your life? There's only one way to find out. You know you want to. Experience the madness as this exquisite monstrosity unleashes an absurdly sadistic masterclass where something interesting must happen every 10 seconds. His mission: charm, disarm, shock-and-seduce. His target: you! Anything can happen as Red Bastard lures his students into raw conversation, traps, rewards and catch-22's - encouraging risk and discovery. 'Very, very funny' (New York Times). 'One funny son of-a bitch' ***** (Irish Theatre Magazine). ***** 'A must-see' (Hour Magazine, Montreal).
Share this show
Reviews
Press coverage
Full press release
Red Bastard is a dangerous, seductive comedy monster! After 5-star reviews and sold out shows across North America Europe and Australia, America's number one bouffon unleashes a pompous theatrical master class in this critically-acclaimed show, debuting at this year's Edinburgh Festival at the Assembly's Bosco Tent.
Experience this exquisite monstrosity as he delicately leads you through a no-holds-barred show demanding to know nothing less than the existential query, "Who the hell do you think you are?" Lines will be crossed and laughs will be had in this interactive feast of biting wit, mischievous improvisation, and physical prowess.
He is not man or woman; he is not human or animal. He has come to play with us, pretending that he is a teacher of the theater of life. Red Bastard spreads throughout the audience like a big red virus, daring us to impress him with beautiful movements and vocal exercises of our own. He demands that we be "bigger," that we "go beyond." He commands, "risk, and you are rewarded." The audience finds itself changing seats, yelling, posing, singing-we are pulled into participating, and the consequences of not participating ("eek! he might touch me!") feel delightfully dire.
Audiences should be prepared for anything to happen in this interactive show, in which Red Bastard engages the audience in master class of raw conversation, provocations, traps, rewards, and catch 22's- encouraging risk and personal discovery.
Red Bastard is Eric Davis. In 2011, he created the role of Allen Smithee in Cirque Du Soleil's Resident Hollywood show, Iris. In 2010, Mr. Davis won the Golden Nose for Clown of the Year in New York. In addition, he was a Finalist for the NY Comedy Festival's Andy Kaufman Award, and the award winning director and co-writer of The Bouffon Glass Menajoree, which was nominated, for Outstanding Director, Outstanding Script, Outstanding Ensemble and Outstanding Production by the NY Innovative Theatre Awards. He is the co-writer and director of Kill Me Loudly: A Clown Noir. And a co-founder of the NY Clown Theatre Festival. The show has been created under the direction of Sue Morrison with continued direction by Deanna Fleysher.