Racing Minds
Aaaand Now For Something Completely Improvised
Improv
11:30am (1 hour)
31 Jul; 1-26 Aug 2013
6 - 8
This is a 2013 show that has now finished.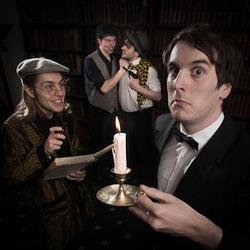 | Mon | Tue | Wed | Thu | Fri | Sat | Sun |
| --- | --- | --- | --- | --- | --- | --- |
| | 30 | 31 | 1 | 2 | 3 | 4 |
| 5 | 6 | 7 | 8 | 9 | 10 | 11 |
| 12 | 13 | 14 | 15 | 16 | 17 | 18 |
| 19 | 20 | 21 | 22 | 23 | 24 | 25 |
| 26 | 27 | 28 | 29 | 30 | 31 | |
Venue details
Alternative performances
The Fringe hit returns for a fourth year! Racing Minds present an improvised comic adventure based entirely on audience suggestions - unique every day. A doddery grandfather can't quite remember his ripping yarn, but with your help a mystery stuffed with hilarious characters, whip-smart wit and breathtaking twists will take hasty shape before your very eyes. Anything could happen, but excitement is guaranteed! 'Genuinely reach the heights of early Python' **** (ThreeWeeks). ***** (Festival Journal). **** (BroadwayBaby.com). WhatsOnStage.com No.1 Improv Pick of the Fringe 2011. Suitable for all ages.
Share this page
Reviews
Full press release
With two severely visually impaired members (one of whom lost his sight during the 2009 Edinburgh Festival),family-friendly improv quartet Racing Minds return for a fourth year with their full-length ripping yarn that is entirely different every day of the Fringe, Aaaand Now For Something Completely Improvised.
This is Racing Minds' first show at Pleasance, having been one of the biggest draws at the Free Festival for the past three years. Familiar faces would fill the room each day, and so to encourage the repeat custom that improv allows, tickets for the show are among the cheapest at Pleasance, costing no more than £8 on weekends, while concessions are £5 on Mondays and Tuesdays.
Framed as the hazy fireside remembrances of a doddery grandfather, and suitable for all ages, their tales of adventure rely on a hastily assembled foundation of audience suggestions - as wild or imaginative as the fringe-goers fancy - before they weave an array of memorable characters and a plethora of rib-tickling situations. Welcomed to the intimate surroundings of the Pleasance Courtyard's new venue, Pleasance That, by an elderly butler with a silver tray full of sweets, expect edge-of-the-seat suspense, shock plot twists and satisfying finales (not to mention jokes galore); all while a talented pianist provides similarly spontaneous instrumentation!
As well as appearing at the Pleasance, Racing Minds will be recording their iTunes' Top 50 improvised radio play, The Wireless Podcast every day at 7.30pm in the Free Sisters, Cowgate.
The four members of Racing Minds first met at Oxford University, although Tom was kicked out, Dougie dropped out and Chris came within an inch of rustication on several occasions for pursuing a career in Comedy instead of his degree, Archaeology.
Chris placed 5th in Dave's 'Funniest Joke of the Fringe' with the groaner: "I'm good friends with 25 letters of the alphabet... I don't know Y". This year, on the advice of his Grandma, he's written a sequel to that joke.
Racing Minds first improvised together with Fringe-favourites The Oxford Imps.
---
Tweets by Racing_Minds