Over It
Over It - Death, Anorexia, and Other Funny Things
Stand-up / Storytelling
6pm (1 hour)
3-25 Aug 2013
Free
This is a 2013 show that has now finished.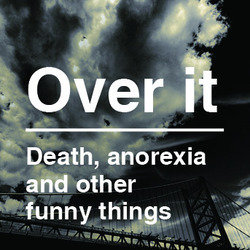 Show details
Stand-up show / storytelling starring Dave Chawner and Robyn Perkins performed on the following days in August 2013...
| Mon | Tue | Wed | Thu | Fri | Sat | Sun |
| --- | --- | --- | --- | --- | --- | --- |
| | 30 | 31 | 1 | 2 | 3 | 4 |
| 5 | 6 | 7 | 8 | 9 | 10 | 11 |
| 12 | 13 | 14 | 15 | 16 | 17 | 18 |
| 19 | 20 | 21 | 22 | 23 | 24 | 25 |
| 26 | 27 | 28 | 29 | 30 | 31 | |
Venue details
Dave, a straight male, takes a satirical look into his anorexic past. Robyn recounts the unexpected, ridiculous aspects of dealing with the death of her partner. Life experience, through crisps and lingerie.
Share this show
Reviews
Full press release
Over it, which will be taking place in the Staff Room at the Free Sisters at 6pm every evening throughout the festival, sees Dave Chawner discussing anorexia and his experiences with this serious mental illness. The bill also sees Robyn Perkins giving her take on bereavement. At first glance it might not seem particularly comedic but it recently ranked 4th on the top ten shows to see this year by the industry newsbody, Chortle. The show gives you the chance to learn (and laugh) a great deal about these seriously serious topics. Dave's tale begins as a 17 year old lad who needed to appear topless in a scene as the lead in his school production, add girls, a summer school where he couldn't control his eating and close ones who didn't really understand what was going on into the mix and a few months later he was in the grips of anorexia.
"I could have written a show about anything for the Edinburgh Festival" says Dave, now 24, "but my experiences with anorexia and knowing how important it is for people and in particular boys to talk about these issues got me thinking. I'm always amazed by the number of people who come up and tell me about their own stories after the show, we need to talk about mental health and I hope I'm helping to break down some of the stigma around eating disorders - I myself as a male might not be someone you would immediately associate with anorexia nervosa."
"One of our aims is to change the way everyone thinks and talks about eating disorders. Generally, we see a stigma and taboo around mental illness - Dave's show, Over It, tells people that it's ok to talk." says Beat, the UK's leading eating disorder charity. "Commonly anorexia and eating disorders are immediately related to females, but this certainly isn't the case. We're seeing more and more males coming forward - some studies show that up to 25% of 1.6 million people in the UK affected by an eating disorder could be male. It's great that Dave is willing to share his experiences and we really do appreciate the work he is doing as a comic and a Beat Media Volunteer to raise awareness of eating disorders."
Credits