No Direction
No Direction
Play
2:50pm (1 hour)
1-12 & 14-26 Aug 2013
12 - 15
This is a 2013 show that has now finished.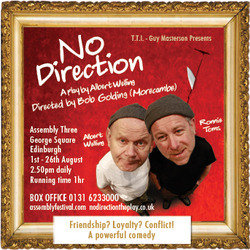 | Mon | Tue | Wed | Thu | Fri | Sat | Sun |
| --- | --- | --- | --- | --- | --- | --- |
| | 30 | 31 | 1 | 2 | 3 | 4 |
| 5 | 6 | 7 | 8 | 9 | 10 | 11 |
| 12 | 13 | 14 | 15 | 16 | 17 | 18 |
| 19 | 20 | 21 | 22 | 23 | 24 | 25 |
| 26 | 27 | 28 | 29 | 30 | 31 | |
Venue details
One thing you can be sure of when you go to the theatre is that nothing is ever what it seems to be. Guy Masterson presents a new play that deals with the contract between actor and audience. No Direction by Albert Welling leads you on a delightfully original and absorbing journey though some of life's trickier moments - loyalty, friendship, betrayal. And when there's no one around to tell you what to do or how to do it - there's a fair chance that it will either end in tears or in comic chaos - or both!
Share this show
Reviews
Full press release
Four years ago Bob Golding was the talk of the Fringe with his stunning performance of the late great Eric Morecambe in Morecambe by Tim Whitnall. After winning a Fringe First and unanimous critical praise, the play was whisked off to run in the West End where it won the Olivier Award for Best Entertainment and an Olivier nomination for Best Actor. It was the dream Edinburgh Fringe success. Returning to the festival for the first time since, Bob Golding makes his directorial debut with the world premiere of No Direction by Albert Welling.
Two men embark on a task together. They need direction but neither is taking control and, as is inevitable when a pair of followers occupy the same space, they are going round in circles. However one of them seems to be running out of steam while the other has grand dreams to pursue and there is a fair chance they could both get horribly lost unless they sort themselves out quickly. Waiting for Godot meets Sleuth with twists and turns at every junction. No Direction is a switchback ride comedy about friendship, loyalty and two headless men in a muddle.
No Direction stars Ronnie Toms, who was last seen in Edinburgh in Tim Whitnall's The Sociable Plover in 2009, and the play's writer Albert Welling, who recently played The Fuhrer himself in the Doctor Who episode Let's Kill Hitler.
Albert started his career in repertory theatre with seasons at the Royal Shakespeare Company and the Young Vic. He has since worked in theatre, film and TV for nearly 40 years. More recently he played Adolf Hitler in Doctor Who (episode, Let's Kill Hitler). He was Mr Waring in Ricky Gervais and Stephen Merchant's critically acclaimed feature film Cemetery Junction. He can be seen in Mammoth Screen's series Endeavour for ITV as Wallace Clark, but the pinnacle of his career was surely his appearance as 'Naked Asexual Man up a Stick' in Brass Eye. Albert has written five plays for BBC Radio 4 in the past. No Direction is his first play as writer for the stage.
Ronnie has appeared in a wide range of stage roles which include Bamforth in The Long and the Short and the Tall, Bottom in A Midsummer Night's Dream, Judd in John Godber's Bouncers, Kenny in Berkoff's West, Frankie in Patrick Marber's Dealers Choice and Trotter in R.C Sheriff's Journeys End, as well as his portrayal of a Boer War Veteran in John Gardiner's powerful one man show Private Tucker's Diary. In 2009 Ronnie first appeared at the Edinburgh Fringe alongside Guy Masterson in Tim Whitnall's critically acclaimed psychological thriller The Sociable Plover, which went on to tour both nationally and internationally. TV and film credits include Joe in London's Burning and Eddie in EastEnders!
Bob has had a varied career as an actor, a director and voice artist and musician. His theatre work is extensive and has taken him all around the country. Most notably Bob recently completed a nationwide tour of 260 performances and a west end run at the Duchess Theatre of Tim Whitnall's Morecambe. The play premiered at the Assembly venue Rainy Hall at the 2009 Edinburgh Fringe Festival where it gained a Fringe First award then later for his performance Bob received a Best Actor nomination at the Laurence Olivier awards where the play won the Best Entertainment category. Bob also performed at the Royal Variety Show and received a nomination for 'Best Solo Performance' in the 2011 What's On Stage Awards. TV work includes Mr Selfridge (ITV drama), Peter Kay's Britain's Got the Pop Factor & Possibly a New Soapstar Super Strictly on Ice, comedy sketch show Watson & Oliver. He has been co-host on Dave Gorman's Sunday Morning Show on Absolute Radio and provided the voices of 'Milo' and 'Max' in BBC's Tweenies.
Credits