New Art Club
New Art Club: Feel About Your Body
Stand-up
6:45pm (1 hour)
31 Jul; 1-12, 14-19 & 21-25 Aug 2013
12 - 14
This is a 2013 show that has now finished.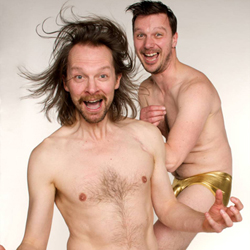 Show details
Stand-up show starring Tom Roden and Pete Shenton performed on the following days in August 2013...
| Mon | Tue | Wed | Thu | Fri | Sat | Sun |
| --- | --- | --- | --- | --- | --- | --- |
| | 30 | 31 | 1 | 2 | 3 | 4 |
| 5 | 6 | 7 | 8 | 9 | 10 | 11 |
| 12 | 13 | 14 | 15 | 16 | 17 | 18 |
| 19 | 20 | 21 | 22 | 23 | 24 | 25 |
| 26 | 27 | 28 | 29 | 30 | 31 | |
Venue details
An uplifting, life-affirming, hilarious spectacle about how we feel about our bodies. Expect silliness, see a man talking to his bottom and find out what not to do during a heart attack. Warning: This show has already left some people feeling a little bit dirty. Contains some brief nudity (long enough to see the works). Contains some brief dancing (silly and emotional). Contains some puerile songs (there's a good one about a shed). 'Undoubtedly the funniest comedy act I have seen in the last five years' ***** (ThreeWeeks).
Share this show
Reviews
Full press release
The boys are back in town! New Art Club (aka Tom Roden and Pete Shenton) return to Edinburgh after a two-year gap and this time they're serious. Well, not exactly serious but they will be tackling a serious subject with their satisfying mix of puerile, emotional and intellectual chatter... along with some moving about.
Feel About Your Body strips down to the basics, laying bare how we all feel about the one thing that's with us all the way from the cradle to the grave. Worshipped, revered, adorned, abused, laughed at, pampered, pierced, poked and occasionally rubbed lovingly with oil, the human body is truly an object of wonder. Of course, the show's title has a double meaning - it's sexy AND intellectual and very very silly.
During the course of this pulsating, visceral and flesh-filled hour, a man will talk to his bottom, bits will bounce and bellies will be bared. There will also be some invaluable advice on what not to do during a heart attack - Pete should know, he had one in his early thirties when his partner was eight months pregnant. All this comes with a warning - in tests eight out of ten audience members were left feeling "a little bit dirty". There will be some brief nudity (long enough to see 'the works'), some brief dancing (silly and emotional) and some puerile songs (there's a good one about a shed).
"Undoubtedly the funniest comedy act I have seen in the last five years." Three Weeks *****
"I cannot remember the last time I saw a Fringe audience, as one, leap to their feet and give an act a standing ovation... And I found myself on my feet too." The Scotsman ****
About New Art Club
New Art Club is comedians, choreographers and dancers Pete Shenton and Tom Roden - think the bastard sons of Morecambe and Wise at Sadler's Wels. They have been touring nationally and internationally since 2001; were Place Prize finalists in 2004 and in 2010 they won The Edinburgh Spotlight Best Comedy Award for their show Big Bag of Boom. Their work is regularly presented at Soho Theatre and at festivals around the UK.
Big Bag of Boom and their most recent show, Quiet Act of Destruction have both had successful runs at the Melbourne International Comedy Festival. They have worked as presenters on The Culture Show, their work has been featured in Channel 4's Random Acts series and in 2012 the duo scripted and presented Come Dance with Me - an internet TV project for Space, an initiative of the BCC and Arts Council England. Last year also saw the creation of New Art Club's Herculean Cabaret, a commission for Dance 4's Splash Dance Festival.
They are being commissioned to create a new work for the celebrations around the Rugby League World Cup which is being hosted in the UK in autumn 2013; and they are also to be seen as MCs, guest artists and comperes at various events including Mark Watson's 25 Hour Comedy Marathon to celebrate 25 years of Comic Relief.
Outside of New Art Cub, Pete works as a choreographer, writer, performer, collaborator, artistic advisor and teacher in dance and comedy theatre. Pete's directing and choreography credits include: Good Friday for Dave Parkin; May for Probe Dance Company; The Three Graces for Laurie Lorry Theatre Company; and he was commissioned by Dance 4 to direct a version of Thomas Lehmen's Schreibstuck; and co choreographed revenge of the impossible things for Scottish Dance Theatre. Pete has taught dance at all levels of ability and ages and is a senior lecturer in dance at De Montfort University.
Tom has worked as a choreographer in Theatre, Opera and Live Art and Circus. His credits include Billy Budd at Glyndebourne, Babette's Feast at The Royal Opera House, Parasite for Reckless Sleepers Edward the Second at Bolton Octagon and Voyagers for Cirque Surreal. He performed in Cunning Little Vixen at the Bregenz Opera Festival and appeared in Ah, Belinda with The Glee Club. Tom is a guest lecturer at The London School Of C contemporary Dance, Northern School Contemporary Dance, Trinity Laban, Leeds Met University, DeMontfort University, Leicester, University of Warwick and The Rambert School. This year he is developing work with Hunt and Darton, Figs In Wigs, The Nerdy Birdies and Hoipolloi.
Credits