Lucy Porter
Lucy Porter - Northern Soul
Stand-up
5:10pm (1 hour)
31 Jul; 1-11, 13-18 & 20-25 Aug 2013
10
This is a 2013 show that has now finished.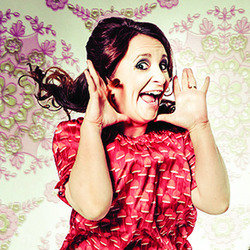 Show details
Stand-up show starring Lucy Porter performed on the following days in August 2013...
| Mon | Tue | Wed | Thu | Fri | Sat | Sun |
| --- | --- | --- | --- | --- | --- | --- |
| | 30 | 31 | 1 | 2 | 3 | 4 |
| 5 | 6 | 7 | 8 | 9 | 10 | 11 |
| 12 | 13 | 14 | 15 | 16 | 17 | 18 |
| 19 | 20 | 21 | 22 | 23 | 24 | 25 |
| 26 | 27 | 28 | 29 | 30 | 31 | |
Venue details
The Fringe favourite - familiar from Buzzcocks and Mock The Week - returns to The Stand with her best show yet. Does geography shape our destiny? Born in Croydon to a Northern Irish dad and a Midlander mum (who met in Africa), Lucy never felt that she belonged down south. She tried moving to Manchester, marrying a Welshman and travelling the world, but she's still - like the littlest hobo - seeking her spiritual home. 'Impeccably punch-lined anecdotes of the everyday. Genuinely delightful' (Telegraph). 'Fizzing with inventive one-liners, a treat from start to finish' (Herald).
Share this show
Reviews
Press coverage
Full press release
"I was uplifted into huge regions of northern sky. I desired with almost sickening intensity something never to be described (except that it is cold, spacious, severe, pale and remote) and then ... found myself at the very same moment already falling out of that desire and wishing I were back in it." - C.S Lewis

Does geography shape your destiny? Fringe favourite Lucy Porter's latest (and greatest) show is about never quite knowing where you belong. Born in Croydon to a Northern Irish dad and a Mid-lander mum (who met in Africa), Lucy never felt comfortable as a South London suburbanite. In her teenage years she was seduced by the music of Morrissey, the art of David Hockney and the politics of Dennis Skinner. Then she was seduced by the kissing of an actual man from Bury, and she started to suspect that the North of England might be her spiritual home.
Lucy moved to Manchester and then Liverpool. As much as she loved her time there, she didn't find the sense of completion she'd yearned for. Stand-up comedy has allowed Lucy to travel the world, and she's acquired a taste for the exotic (she even married a Welshman) but she's still - like the Littlest Hobo - waiting to find a place to settle down.
Currently living in London, Lucy still finds that her internal compass points North, but now she suspects it might be a symptom of the profound, insatiable longing that CS Lewis describes as 'The Northernness'. A momentary epiphany made Lucy think she'd found an answer to this emptiness in Norwich but she now realizes that was a side-effect of sloe gin.
This show draws on Lucy's years of touring and travelling, as she shares her thoughts about the regional peculiarities she's spotted in Britain and beyond. She'll explain why she felt more at ease in a Cape Town toilet than any Soho nightspot. Exploring the North South divide, Lucy also explains why The East West watershed means that Hull and Bristol are like the Nation's Nipples.
Revealing the best and worst places in the UK to do stand-up (spoiler alert: Glasgow and Liverpool), Lucy asks how much we should be defined by our birthplace, and how hard it is to shake off one's roots. Is it more difficult to stop being a Catholic or being from Croydon?
This show hinges on a charming, surprising and fascinating tale about Lucy's dad's search for an alternative back-story. He claimed to be from Glasgow (despite a very obvious Belfast accent) because he didn't want to be associated with 'the troubles'. It highlights how ignorant Lucy was about the reality of the class struggle, Irish politics and the relationship between her mum and dad. A couple of life-changing events intervene to illustrate how Lucy's presumptions about her parents were entirely wrong.
Like any good Northern Soul night, Lucy's show should leave you feeling happy and slightly sweaty.
In other news, BBC Radio 4 have commissioned a script for a sketch show that Lucy is writing with Catherine Shepherd, and she is also at full pelt creating a sitcom with the working title Giant Husband, Tiny Wife.
They say that everyone has a book in them, and Lucy has been involved in the painful process of extracting hers for some years now. She now has a literary agent helping her, and we hope to hear the pitter patter of tiny pages very soon.

Lucy can currently be heard on BBC Radio 4 shows including The Unbelievable Truth and Jo Caulfield's Speakeasy. A veteran 'talking head', the eclectic mix of topics she has discussed or paid tribute to on BBC Two, ITV, BBC Radio 4 and Sky Arts include: The Bradshaws, Clive Dunn, Now That's What I Call Music, Mark E Smith, Coventry and the colour green. Lucy is the voice of Playstation's online magazine 'Access', and consequently gets quite a few 15-year-olds turning up to her shows expecting her to talk about God of War and Skyrim.

After a few years of enforced absence, Lucy roared back to the Fringe in 2012 with her critically acclaimed show People Person which she subsequently took on a 42 date tour of arts centres & theatres in 2013. People Person will be released on DVD by Go Faster Stripe in 2013.