Joz Norris
Joz Norris Has Gone Missing
Sketch show
2:45pm (1 hour)
1-12 & 14-25 Aug 2013
Free
This is a 2013 show that has now finished.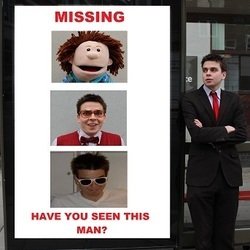 Show details
Sketch show starring Joz Norris performed on the following days in August 2013...
| Mon | Tue | Wed | Thu | Fri | Sat | Sun |
| --- | --- | --- | --- | --- | --- | --- |
| | 30 | 31 | 1 | 2 | 3 | 4 |
| 5 | 6 | 7 | 8 | 9 | 10 | 11 |
| 12 | 13 | 14 | 15 | 16 | 17 | 18 |
| 19 | 20 | 21 | 22 | 23 | 24 | 25 |
| 26 | 27 | 28 | 29 | 30 | 31 | |
Venue details
Critically acclaimed comic Joz Norris has gone missing. Nobody knows where he is, but it is probably something to do with his wife. Fortunately, three characters drawn from the cream of the alternative comedy circuit are here to fill in for him and save his show: crap superhero Mr Gumbo, ADHD-suffering spider Rosco and deluded auteur Matt Fisher. From his self-imposed exile, Norris assures us they will make adequate replacements. 'Norris has created a genuinely brilliant character ... the audience loves every second' (Skinny).
Share this show
Reviews
Press coverage
Full press release
Joz Norris (Chortle nominated Weirdos collective) has gone missing. Nobody knows where or why, but it's probably something to do with his wife. Luckily he has been kind enough to find three replacement acts to fill in for him at the last minute - substandard superhero-turned-comedian Mr Gumbo, excitable spider-turned-bespectacled boy Rosco, and deluded auteur-come-ideas man Matt Fisher - all poised, ready to rescue the show from the brink of ruin.
Norris is regarded as one of the most promising and exciting emerging character comics currently working on the circuit. To date he has been a semi-finalist in the Leicester Square Theatre's New Comedian of the Year, is a regular collaborator for the 2013 Chortle award nominated and critically acclaimed Weirdos collective, and performed at the UK premiere of Ben Miller's film Huge at the Empire Cinema, Leicester Square. He is also one half of the popular weekly What Not Comedy Podcast along with Karl Schultz, the host of the new online panel show Punchlines, produced in association with UCA Maidstone and has recently been working on the clowning circuit as part of the Clown Town Cabaret Show for the Brighton Fringe 2013.
Last year Norris's first show, Joz Norris is Matt Fisher: Uberperson received unanimous praise from critics, comics and audiences alike, and his new show is set to be another foray into the silliness and originality he has come to be known for. Norris's characters breathe life as daft, adventurous and fiendishly clever. At times ridiculous, often shambolic, but all of them brimming with fresh ideas and razor-sharp hilarity, and this year's show blends all the diversity and versatility of his comedy into a story about what it means to be a comic, and the rationale behind their seemingly impulsive behaviour.
Don't miss out - Norris's show promises to be one of the most delightful, rewarding, absurdly silly and action-packed shows of the Fringe, and all free of charge (because he's generous like that).
---
Tweets by JozNorris